On-Site: ZCNYC Zazenkai at the Temple
with Jody Hojin Kimmel, Sensei
August 14, 2021
Please join us for a full day zazenkai at the Temple! And to help during this transition time, NO WALK-INS ALLOWED, and PRE-REGISTRATION ONLY. Thank you!
You should therefore cease from practice based on intellectual understanding and learn the backward step that turns your light inward to illuminate yourself. Body and mind will drop away of themselves, and your original face will be manifest. If you wish to attain suchness, practice suchness without delay – Eihei Dogen
Zazenkai is a day of deepening practice within a full day characterized mainly with silent sitting, walking, a simple, mindful meal, face to face teaching (daisan) liturgy and Dharma words. Instructions will be offered in oryoki (a word translated as "the container that holds just the right amount which is the traditional Zen meal ceremony.") *All our meals will be vegan and GF.
We strive to keep our retreat prices low and offer these programs by donation. Program price for this retreat is $75, please pay what you can. It's important that the dharma is available to everyone. Thank you for your continued support.
You must be fully vaccinated to participate in this event.
Teacher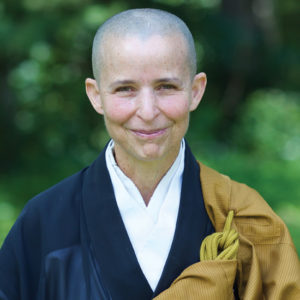 Jody Hojin Kimmel, Sensei
Hojin Sensei is the Abbess of the Zen Center of NYC and serves as the Director of Training for the Mountains and Rivers Order. She received transmission of the Precepts from Daido Roshi, who began the process in 2009, and from Shugen Roshi, who completed the transmission in 2012. In 2017, she received full dharma transmission from Shugen Roshi. Before entering the Monastery in 1990, Hojin Sensei received and MFA from the University of Kansas and trained under legendary ceramicist Toshiku Takaezu, among others. Over the years she has taught drawing, ceramics, and painting, and continues to teach on the creative process.
Learn more about Jody Hojin Kimmel, Sensei