Being the Bowl: A Clay Retreat with Raku Firing
With Jody Hojin Kimmel, Sensei
August 15 - 19, 2018
Being the Bowl is the profound study of staying unconditionally with one thing. How can we return, again and again, to just this one thing through the cascade of our ever-changing moods and emotions? How can we meet ourselves freshly each moment? How can we challenge ourselves to respond spontaneously, allowing ourselves to hear, feel, see, and change in response to circumstances?
In this powerful, multi-day retreat, Hojin Sensei serves as your guide in working with clay, painting and mark-making, using an all-natural palette foraged from Tremper Mountain and the Esopus River. Experience the joy and wonder of spontaneous expression, allowing the elements of water, earth, fire and air to move within your body, to touch your heart and move your hands in such a way that intention lives alongside discovery.
The retreat concludes with glazing your clay bowls and offering them to the fire in the 600-year-old firing tradition known as Raku.
In addition to Hojin Sensei's guidance and encouragement throughout the retreat, Yosha Scott-Childress also assists with instruction.
Teacher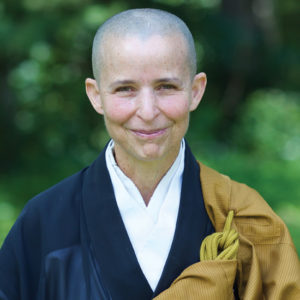 Jody Hojin Kimmel, Sensei
A Zen priest, Jody Hojin Kimmel, Sensei received transmission of the Precepts from Daido Roshi, who began the process in 2009, and from Shugen Roshi, who completed the transmission in 2012. In 2017, she received full dharma transmission from Shugen Roshi. She currently serves as MRO training coordinator and co-Director of the Zen Center of NYC. Before entering the Monastery in 1990, Hojin Sensei studied fine art and trained under legendary ceramicist Toshiku Takaezu, among others. Over the years she has taught drawing, ceramics, and painting, and continues to teach on the creative process within the Mountains and Rivers Order.
Learn more about Jody Hojin Kimmel, Sensei