ON-SITE Awakening to Karma: How Karma Manifests as Our Life and Practice
with Ron Hogen Green, Sensei
October 15 - 17, 2021
What is karma?
Every choice we make is filled with potential, yet moving beyond karma is the ultimate aim of the Buddhist path. According to the Buddha, it's because of our own volition that karma forms — the essence of our intention, expressed as actions of body, speech and mind.
What does this mean for our practice and for our own awakening? How does the relationship between karma and our life help us to foster a more compassionate way of living? To live in a more open and heartfelt way?
"Karma can be understood as the key to spiritual develop­ment, revealing how one's life situation can be transformed by transforming the motivations of one's actions here and now."  ~Rita Gross
Because of our conditioned tendencies, it may appear as though we are not in control over our responses to life. But just as we have developed negative tendencies, we also have the power to cultivate our compassionate, generous, enlightened, loving, helpful qualities.
In this workshop, we'll explore what is meant by a willed action and why the Buddha emphasizes the need to be mindful of every choice. We'll look at our intention to live mindfully, making decisions that turn our karma toward the cultivation of wholesome actions.
With intention, our choices and habits will change. Gradually, we begin experiencing a transformation in our character and our whole being changes — our entire world opens up in a fresh, new light.
As with all in-person retreats at the Monastery during this time, participants are required to be fully vaccinated and to provide negative results from a PCR test taken no more than three days in advance of arrival. 
Please don't let financial issues prevent you from attending a program at the Monastery. If you can't afford the program fee, there are options.
Teacher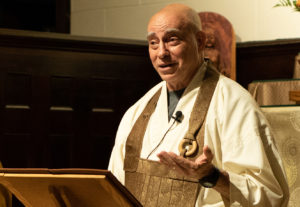 Ron Hogen Green, Sensei
Ron Hogen Green is a husband, father, grandfather, sports-enthusiast, retired podiatrist, and a lay teacher in the Mountains and Rivers Order. Hogen Sensei formally began practicing Zen in 1978 with Philip Kapleau Roshi, shortly after graduating medical school and entering private practice. In time, Hogen and his wife, Cindy Eiho Green, helped run the Denver Zen Center, an affiliate of Kapleau Roshi's Rochester Zen Center. He attended his first retreat at Zen Mountain Monastery in 1988, and not long after began studying with Daido Roshi. In 1993, Hogen completed his training in the Kapleau Lineage and was designated a senior student in the Mountains and Rivers Order. He and Eiho left Denver in 1995 and entered full time residency at ZMM. At the Monastery, Hogen served as Director of Operations for Dharma Communications for 10 years and, in 2000, ordained as a monastic. In 2007, Hogen Sensei returned to lay life, spending time with family while continuing to play an active role in the MRO, its practice centers and affiliates. In 2016, he received dharma transmission from Shugen Roshi, becoming the first lay teacher in the Order. He served as co-director of the Zen Center of NYC for a number…
Learn more about Ron Hogen Green, Sensei