On-Site Ango Intensive: Within Darkness there is Light—The Teachings of Karma and the Path of Compassion
with Geoffrey Shugen Arnold, Roshi
November 4 - 7, 2021
I am the owner of my karma; Heir to my karma; Born of my karma; Related to my karma; Abide support by my karma. Whatever karma I shall do, for good or for ill, of that I will be the heir.
The Buddhist teachings on karma—arising from the profound enlightenment of the Buddha—are a central aspect of dharma study, practice and realization. How we understand and practice meditation, how we face painful events, and how we cultivate compassion are all based in our understanding of the Buddhist teachings which rely upon the deep wisdom of the Buddha—and our human experience—of karma.
Popularized notions of karma can easily be misunderstood or oversimplified, and even misused. Misunderstanding can lead us to miss some of karma's deepest and most significant implications for sincere practitioners of the 21st century. To truly benefit ourselves and others through dharma practice, developing an understanding of karma is essential.
In this intensive, we will examine and aim to clarify various aspects of the teachings of karma using several traditional wisdom teachings. There will be periods of meditation, study and discussion. We will explore the ramifications and impact of understanding karma in how we meditate, how we relate to ourselves and others, and how we can address some of the most urgent matters of our time.
Note: The retreat and discussions will be largely based on selected readings that should be studied before the retreat begins. They will be sent to each participant several weeks prior to the retreat date.
All visitors to the Monastery will be required to be fully vaccinated. In addition, we will ask that all retreat participants present a negative PCR test conducted no more than three days before their date of arrival.
Teacher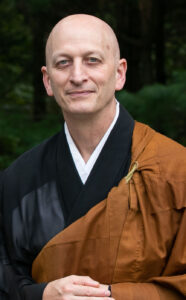 Geoffrey Shugen Arnold, Roshi
Geoffrey Shugen Arnold, Roshi is the Head of the Mountains and Rivers Order and Abbot of Zen Mountain Monastery. Shugen entered full-time residential training in 1986 after studying mathematics and receiving a degree in classical music. He received dharma transmission from John Daido Loori, Roshi in 1997. His teachings on Zen, social justice and environmental stewardship have appeared in various Buddhist journals, and The Best Buddhist Writing 2009 (Shambhala Publications). His book of poetry, O, Beautiful End, a collection of Zen memorial poems, was published in 2012.
Learn more about Geoffrey Shugen Arnold, Roshi