BIPOC Conversation
with Simone Chimyo Atkinson, Sensei
September 15, 2021
This retreat is reserved those who self-identify as Black, Indigenous, Asian or People of Culture/Color.
This evening will feature a conversation with Simone Chimyo Atkinson, Sensei, a Soto Zen Buddhist priest who has been visiting with and offering teachings in the MRO for the past few years.
These conversations are sponsored by the BIPOC Sangha Group, an ongoing bimonthly meeting of sangha members who identify as Black, Indigenous, Asian, or as People of Culture/Color, gathering for peer-facilitated practice, study, empowerment and discussion.
Your registration confirmation will include a link to the Zoom registration.
Teacher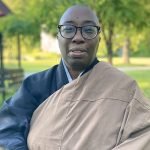 Simone Chimyo Atkinson, Sensei
Simone Chimyo Atkinson was ordained a priest in the Soto Zen Buddhist tradition in 2007. She received her monastic training at Great Tree Zen Women's Temple in North Carolina where she also served for a number of years as Head of Training and received Dharma Transmission in 2015 from Rev. Teijo Munnich. Rev. Chimyo completed Sotoshu International training periods (Ango) in Japan in 2010 and 2011. She also completed training periods at the Aichi Senmon Nisodo in Nagoya in 2012 and Ryumonji Monastery in Iowa in 2014. She has been serving on the board of the Soto Zen Buddhist Association since 2017 and helped to draft that organization's standards for formal monastic practice. She is a member of the Association of Soto Zen Buddhists Jukai-e committee and an SZBA liaison to that organization's Roadmap Committee.
Learn more about Simone Chimyo Atkinson, Sensei