Knowing How To Be Satisfied
with Mn. Gokan Bonebakker
December 9, 2021
The Buddha said, "If you want to be free from suffering, you should contemplate knowing how much is enough. The dharma of knowing how to be satisfied is the realm of riches, comfort, peace and tranquility."
Living in the realm of desire, a world of like and dislike, what is it to be satisfied? How much is enough? How do we work with desires without repressing or cutting off any part of ourselves? Can we be satisfied with the way we are right here, right now? How does our zazen practice help us to understand knowing how to be satisfied?
In this seminar we will use the Buddha's teaching on The Eight Awarenesses of the Bodhisattva to examine these questions. There will be time for reflection and discussion.
Our online programs are offered by donation so that everyone can participate. We appreciate your support.
Teacher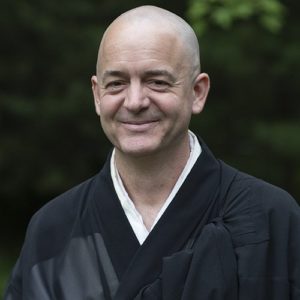 Mn. Gokan Bonebakker
Bear Gokan Bonebakker first came to the Monastery in 1994, and has been in residence since 2007. He was ordained in 2014. Gokan is the Operations Director, helps coordinate the National Buddhist Prison Sangha, and works in the orchard.
Learn more about Mn. Gokan Bonebakker