Relaxing Into Reality
with Mn. Shoan Ankele
September 30, 2021
It has been said that the path of liberation is one of moving into ever more subtle fields of relaxation. Teachings on meditation often emphasize a quality of softening or opening, and Dogen Zenji called zazen "the gate of ease and joy." At the same time, Zen training is unmistakably rigorous, and within our own practice we each encounter periods of great effort and struggle.
How do we understand the role of relaxation along the path? How can we cultivate the qualities of softening and release in our practice on and off the cushion?
In this evening seminar, we'll take this up both conceptually and practically. To start, we'll take up some teachings from meditation masters on how relaxation relates to concentration and insight. Then we'll enter the sphere of our own direct experience, getting practical as we look at how such teachings suggest we work with tension, distraction, and self-criticism as they arise within our body, minds and hearts.
Our online programs are offered by donation so that everyone can participate. We appreciate your support.
Teacher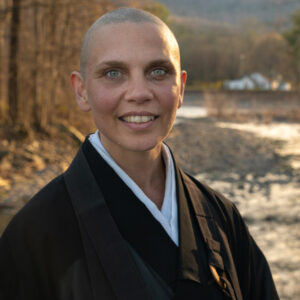 Mn. Shoan Ankele
Danica Shoan Ankele is a Dharma Holder and Senior Monastic in the Mountains and Rivers Order. A native of New York City, she first came to the Monastery as a sophomore in college and has been in full time residential training since 2007. She became a senior student in 2009 and took full monastic ordination with Shugen Roshi in 2015. Shoan is the Monastery's Creative Director and Training Coordinator. She also oversees our Tenkozan line of statues and naturally dyed fabrics, designed and produced on the Monastery grounds.
Learn more about Mn. Shoan Ankele