Drawing Breath (on-site at ZCNYC)
with Robyn Ikyo Love
October 9, 2021
To help during this transition time, NO WALK-INS ALLOWED, and PRE-REGISTRATION ONLY. Thank you!
Join us for a morning of playful exploration of our breath – our life force – through drawing and movement.  We will use our whole body to create lines, shapes and textures guided by our breath.  How can you express your breath with your hands, arms, feet, hips?  There are no wrong answers!  If you have struggled with art practice, this will be a great opportunity to release expectations and have fun.  We will start with some conscious breathing then we will strap on our drawing implements and get moving, staying tuned into our breath and allowing it to show us the way.  There will be time to share our drawings and reflect on the experience at the end.
We strive to keep our retreat prices low and offer these programs by donation. Program price for this retreat is $30, please pay what you can. It's important that the dharma is available to everyone. Thank you for your continued support.
You must be fully vaccinated to participate in this event.
Teacher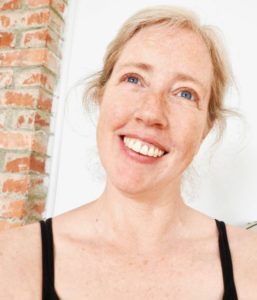 Robyn Ikyo Love
Robyn Ikyo Love is a certified yoga therapist (C-IAYT) and E-RYT 500 with over 2500 hours of training and more than a decade of teaching experience in yoga as it was taught by Sri Krishnamacharya and TKV Desikachar.  Called viniyoga, the word means "yoga that is appropriate for the student" so the emphasis is on meeting the student where they are and the true belief that anyone who is breathing can "do yoga." Ikyo offers 1:1 yoga therapy, group classes and yoga teacher trainings online and in-person from her home in Western Newfoundland.
Learn more about Robyn Ikyo Love