On-site ZCNYC: Seeing the Moon—Writing and the Art of Change
with Katherine Jifu Jamieson
October 2, 2021
Barn's burnt down—
now
I can see the moon
  — Masahide
Over the past few years we've experienced major transformation in the ways we live due to the pandemic, technology, climate instability and politics. How do we find solid ground when so much around is shifting day-to-day? What remains when the things or ideas we thought we could count on have fallen away?
In this writing workshop we'll be exploring the theme of change and the wide range of responses it can evoke: grief, regret, renewal, and possibility. We'll have time to write together in various forms and share our work as a way to make sense of the shifts we're living through in these unique times.
To help during this transition time, NO WALK-INS ALLOWED, and PRE-REGISTRATION ONLY. You must be fully vaccinated to participate in this event.Thank you!
**(Consider joining the half day-sit 9-noon this same morning. This would be a wonderful way to combine both retreats with a lunch foray in between). 
We strive to keep our retreat prices low and offer these programs by donation. Program price for this retreat is $30, please pay what you can. It's important that the dharma is available to everyone. Thank you for your continued support.
Teacher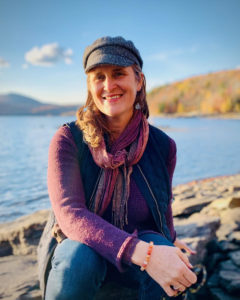 Katherine Jifu Jamieson
Katherine Jifu Jamieson is a graduate of the University of Iowa Nonfiction Writing Program. Her essays and articles have been published in The New York Times, Newsday, Ms. magazine, Narrative, and Orion, and anthologized in The Best Travel Writing series. She has taught writing and literature, in-person and online, at colleges and universities around the country. She has been a student in the MRO since 2004.
Learn more about Katherine Jifu Jamieson