Zen Essentials: To Study the Self—Challenges of the Path
with Mn. Gokan Bonebakker
November 10, 2021
The Great Way is not difficult, just avoid picking and choosing.
The Way itself is not difficult. So why do we so often find that practice is difficult? What is it that makes it seem hard? Where do we get stuck? How can we work with the obstacles we encounter? Can we see them as having the potential to teach us something about our self, to reveal the dharma and help us be free?
In this evening seminar, we'll look at the Buddha's teachings on the Three Poisons and the Five Hindrances, and how these teachings can inform our understanding of the challenges we find in our own practice. There will be time for discussion, reflection, and sharing.
6:30pm – 8:00pm
You must have had beginning instruction at ZCNYC or ZMM.
To help during this transition time, NO WALK-INS ALLOWED, and PRE-REGISTRATION ONLY. Thank you!
The Temple offers this program by donation so that everyone can participate. We appreciate your support.
*You must be fully vaccinated to participate in this event.*
Teacher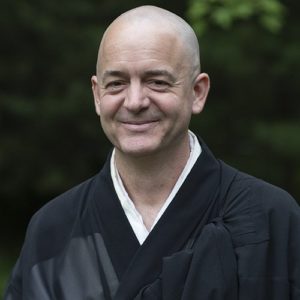 Mn. Gokan Bonebakker
Bear Gokan Bonebakker first came to the Monastery in 1994, and has been in residence since 2007. He was ordained in 2014. Gokan is the Operations Director, helps coordinate the National Buddhist Prison Sangha, and works in the orchard.
Learn more about Mn. Gokan Bonebakker