True Refuge—Enlightenment Vigil at ZCNYC
with Jody Hojin Kimmel, Sensei
December 11, 2021
And to help during this transition time, PRE-REGISTRATION ONLY. Thank you!
After he left the home in which he was raised, Shakyamuni Buddha studied with spiritual teachers across northern India in an effort to resolve his questions about life and death. But even after six years of ascetic practices, he remained unsatisfied. One evening, he remembered the simple joy he had experienced sitting at the foot of a tree as a child. He sat down at the base of a bo tree, took the zazen posture, and resolved not to rise until he had settled his questions. That morning, upon seeing the morning star, he realized annuttarasamyak-sambodhi, supreme perfect enlightenment.
This year, we will commemorate the enlightenment of the Buddha at Fire Lotus Temple with our True Refuge vigil, dedicated to the simple yet profound practice of zazen. We will begin sitting at noon on December 11 and continue through the afternoon and evening until midnight, when the vigil will conclude with a short service. The vigil will be unstructured, without timed periods; participants are invited to sit as long as they like, changing postures when needed, and taking breaks at their own discretion.
Due to the ongoing pandemic, we are asking all participants to formally register for this event (in contrast to past years, which were open to walk-ins). You can register through this page.
This retreat is by donation which we greatly appreciate! Thank you.
You must be fully vaccinated and masked to participate in this event.
Teacher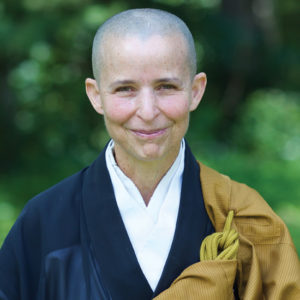 Jody Hojin Kimmel, Sensei
Jody Hojin Kimmel, Sensei received the priestly transmission (the transmission of the Precepts) from Daido Roshi, who began the process in 2009, and from Shugen Roshi, who completed the transmission in 2012. In 2017, she received full dharma transmission from Shugen Roshi. She serves as the Training Director for the Mountains and Rivers Order and Abbot of the Zen Center of NYC-Fire Lotus Temple . Hojin Sensei began her artistic career early and has taught drawing, ceramics, and painting, opening people up to the wonders and mysteries of the creative process and continues to offer Art Practices as part of her teaching. She has been in full-time residential training at the Monastery since 1990 and now shares her time at the Brooklyn temple.
Learn more about Jody Hojin Kimmel, Sensei