Patience as Practice
with Mn. Gokan Bonebakker
February 10, 2022
There is no austerity to be compared with patience. – Shantideva
Patience is the practice of being present with our experience. We practice patience in the solitude and directness of our zazen, learning to meet the thoughts and emotions that arise in our body-mind. Not pushing away in irritation, not holding on in desire, not trying to control. We can practice patience in all of the ordinary situations of our lives when reality does not meet our expectations. Patience helps us to stay close, helps us to meet ourselves, helps us turn our struggles into the path of liberation.
In this seminar we'll look at both ancient and contemporary teachings on patience and discuss ways to practice patience in our lives. There will be time for questions and discussion.
Teacher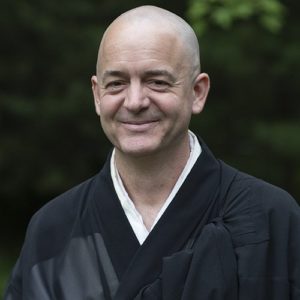 Mn. Gokan Bonebakker
Bear Gokan Bonebakker is a senior monastic and a dharma holder. He first came to the Monastery in 1994, and has been in residence since 2007. Gokan is the Operations Director, helps coordinate the National Buddhist Prison Sangha, and works in the orchard.
Learn more about Mn. Gokan Bonebakker