ON-LINE Precepts I: Entering the Way of Compassion
with Ron Hogen Green, Sensei
May 21, 2022
The moral and ethical teachings of the Buddha are fundamental to all schools of Buddhism and they are a vital aspect of training within the Mountains and Rivers Order. Easily misunderstood as a simple list of rules, the Precepts are a profound expression of compassion grounded in open-ended awareness and wisdom. The extent to which the Precepts become real in our lives is equal to how concretely we practice and apply them in our particular circumstances.
Using zazen, talks, and discussions to elicit honest reflection, this retreat will introduce us to these ancient and profoundly relevant touchstones of the Buddha Way and how to put them to use.
The precepts retreats are open to all practitioners, offering an opportunity to work with Hogen Sensei directly in examining these important teachings.
 Recommended reading: The Heart of Being by John Daido Loori, Roshi.
An on-site version of this retreat will run simultaneously. View it here.
Donations are Appreciated At This Time
Teacher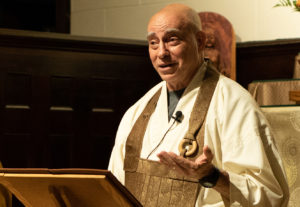 Ron Hogen Green, Sensei
Ron Hogen Green is a husband, father, grandfather, sports-enthusiast, retired podiatrist, and a lay teacher in the Mountains and Rivers Order. Hogen Sensei formally began practicing Zen in 1978 with Philip Kapleau Roshi, shortly after graduating medical school and entering private practice. In time, Hogen and his wife, Cindy Eiho Green, helped run the Denver Zen Center, an affiliate of Kapleau Roshi's Rochester Zen Center. He attended his first retreat at Zen Mountain Monastery in 1988, and not long after began studying with Daido Roshi. In 1993, Hogen completed his training in the Kapleau Lineage and was designated a senior student in the Mountains and Rivers Order. He and Eiho left Denver in 1995 and entered full time residency at ZMM. At the Monastery, Hogen served as Director of Operations for Dharma Communications for 10 years and, in 2000, ordained as a monastic. In 2007, Hogen Sensei returned to lay life, spending time with family while continuing to play an active role in the MRO, its practice centers and affiliates. In 2016, he received dharma transmission from Shugen Roshi, becoming the first lay teacher in the Order. He served as co-director of the Zen Center of NYC for a number…
Learn more about Ron Hogen Green, Sensei