Hara-Focused Body Practice—for BIAPoC Sangha
with Mayumi Ishino
May 23, 2022
Back by popular demand!
This retreat is reserved those who self-identify as Black, Indigenous, Asian or People of Color.
Hara focused movements: visualizing an inner tree with breath.
A series of simple movements connect the breath and body parts, releasing physical and mental tension, while deepening awareness of the lower abdomen (Hara). The center of this area is known as Tanden in Japanese and lower Dantian in Chinese. Tanden is an energetic activation point, not limited to muscle structures but including organs and neurological functions.
The class includes standing, sitting, and lying down positions as well as a brief sharing period. Please wear loose-fitting clothes and prepare a cushion and/or blanket. A yoga mat may help ground feet.
Dates: Mondays, March 28, April 11 & 25, May 9 & 23; 6:30-7:45pm
Your registration confirmation will include a link to the Zoom session.
This series is offered as a part of Ango, if you would like to make an additional donation you may do so as part of this registration.
Teacher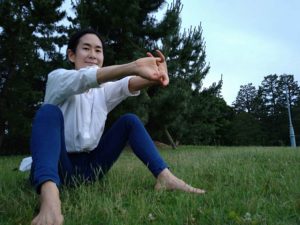 Mayumi Ishino
Mayumi has studied and led body and mind exercises in several countries over 20 years. In her movement classes she combines principles of various methods including Qigong, Yoga, Japanese monastic exercise, and physical therapy, in order to offer simple and accessible exercise for people of all backgrounds.
Learn more about Mayumi Ishino