Revealing Buddha Vision: Stories of True Colors & Coming to our Senses—Ango Art Practice
with Jody Hojin Kimmel, Sensei
May 20, 2022
Buddha Nature pervades the whole universe, existing right here now—Zen Liturgy Dedication
Buddha nature—our basic enlightened nature—when manifested, allows us to directly experience, moment to moment. In this way we have great potential to respond to circumstances with compassion and wisdom. What conceals it? How might we express this true nature more freely, more naturally in the midst of daily life? Art practice can show us a way— can bring us more alive, fluid and connected, instilling faith and allowing our true colors to deepen and radiate.
In these sessions, we will learn and explore the haptic process, an approach which depends upon sensory experience—interior and exterior—as a touchstone to expression. This does not leave out the thinking process but allows the senses to lead in exploring unknown wildernesses and stories. Dharma teachings and prompts will guide us as we find our way in vivid colors, sounds, smells, tastes, touches, spaces and in the movements of our bodies.
While working from our home studios, we will meet on-line together each week. You may work in any medium and continue work with the Ango Art story practice. This invitation is open to anyone and everyone; all are welcome for one or more sessions.
Dream Weaving                                 April 8,15,22
Illuminating                                        May 6, 20
Your registration confirmation will include a link to the Zoom session.
Our online programs are offered by donation so that everyone can participate (and for Ango participants, this is included as part of your registration fee).  As always, we appreciate your support.
Teacher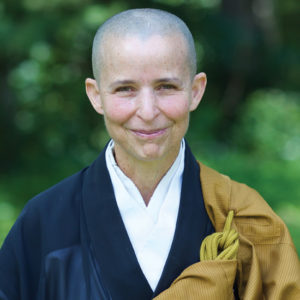 Jody Hojin Kimmel, Sensei
Jody Hojin Kimmel, Sensei received the priestly transmission (the transmission of the Precepts) from Daido Roshi, who began the process in 2009, and from Shugen Roshi, who completed the transmission in 2012. In 2017, she received full dharma transmission from Shugen Roshi. She serves as the Training Director for the Mountains and Rivers Order and Abbot of the Zen Center of NYC-Fire Lotus Temple . Hojin Sensei began her artistic career early and has taught drawing, ceramics, and painting, opening people up to the wonders and mysteries of the creative process and continues to offer Art Practices as part of her teaching. She has been in full-time residential training at the Monastery since 1990 and now shares her time at the Brooklyn temple.
Learn more about Jody Hojin Kimmel, Sensei