In Praise of Listening
with Christian McEwen
June 10 - 12, 2022
The old pond
       a frog jumps in
sploosh!
       —Basho
One of life's great joys is finding time to listen—whether to the scattered wonders of conversation or to the many voices of the non-human world—birdsong, wild wind, river's sweep.
Because the Monastery is set on the rugged side of Mount Tremper in the heart of the Catskills, there are many opportunities for such embodied listening. This weekend workshop will start indoors and, weather permitting, will include an exploratory Sound Walk with plenty of time to pause, write and draw.
There's no need to be a writer to participate—artists, photographers, and contemplatives (of any stripe!) are also encouraged to join. We look forward to gathering together to explore and share.
Learn more about Christian's work and teaching in this article, "The Little Sounds of Everyday Life"
As with all in-person retreats at the Monastery, participants are required to follow the current protocol for keeping everyone safe (this link is updated frequently so check back). Review the current protocol requirements before registering, and if you have further questions, please contact the registrar.
Financial concerns should not prevent you from attending a program at the Monastery. If you can't afford the program fee, you can see these options.
Teacher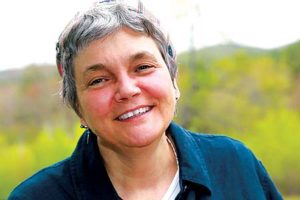 Christian McEwen
Christian McEwen is a freelance writer and workshop leader, originally from the UK. She is the author of several books, including World Enough & Time: On Creativity and Slowing Down, now in its eighth printing. Her articles have appeared in The Nation, The Village Voice, The American Scholar, and Shambhala Sun, and she has edited several books, including Jo's Girls: Tomboy Tales of High Adventure; The Alphabet of the Trees: A Guide to Nature Writing; and Sparks from the Anvil: the Smith College Poetry Interviews. Christian has enjoyed residencies at Yaddo,  MacDowell, Mesa Refuge and the Virginia Center for the Creative Arts, and has received a fellowship in playwriting from the Massachusetts Cultural Council. She is currently working on a book called In Praise of Listening. www.christianmcewen.com
Learn more about Christian McEwen