Right Effort
with Mn. Gokan Bonebakker
June 9, 2022
Not too tight, not too loose,
but try, try, try. —Master Seung Sahn
Practice requires effort. Without it, nothing happens. There are times that require exertion, and others where right effort means being very gentle. Right effort means being skillful; cultivating what leads to liberation and letting go of what leads to suffering. How do we apply this in our zazen practice? In our thought, speech and actions? Effort in the teachings is also sometimes referred to as joyful effort, enthusiasm. How do we cultivate enthusiasm for practice? How do we develop constancy?
In this seminar we will take up these questions as we examine teachings on Right Effort and look at how to use these teachings in our own practice. There will be plenty of time for questions and discussion.
Our online programs are offered by donation so that everyone can participate. We appreciate your support.
Teacher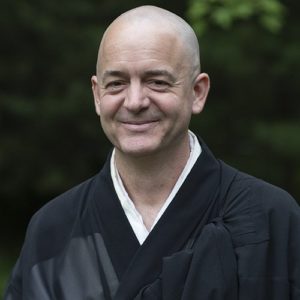 Mn. Gokan Bonebakker
Bear Gokan Bonebakker is a senior monastic and a dharma holder. He first came to the Monastery in 1994, and has been in residence since 2007. Gokan is the Operations Director, helps coordinate the National Buddhist Prison Sangha, and works in the orchard.
Learn more about Mn. Gokan Bonebakker