Beginners Kyudo: Zen Archery Intensive
with Don Symanski
August 10 - 14, 2022
Over the years, the Monastery's Kyudo retreats have developed a reputation for being foremost among Kyudo training opportunities in the U.S. We encourage all Zen students as well as anyone interested in the contemplative arts to engage this special training.
Kyudo demands that we let go of our goals and expectations and live fully in the moment. Through meticulous attention to detail, all aspects of the Kyudo form and movements provide a subtle mirror of the self, as well as an opportunity for deep study. In this outstanding retreat, beginners will receive training in the Seven Coordinations: holding the yumi (bow) and ya (arrow), sighting the target, creating a stance, lifting and drawing the yumi and releasing the ya to the target. The Seven Coordinations are the ground on which to balance the energy of the body, mind and bow, and provide the basis for more advanced practice. Intermediate students will receive personalized instruction in basic and formal group shooting. Formless aspects of Kyudo will be taught as well. If you have already begun practicing kyudo, consider registering for the Intermediate level which starts a day earlier than the beginners' retreat.
Traditional handcrafted yumi as well as other necessary equipment are provided.
As with all in-person retreats at the Monastery, participants are required to follow the current protocol for keeping everyone safe (this link is updated frequently so check back). Review the current protocol requirements before registering, and if you have further questions, please contact the registrar.
Financial concerns should not prevent you from attending a program at the Monastery. If you can't afford the program fee, you can see these options.
Teacher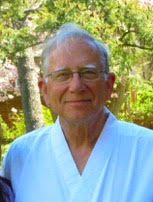 Don Symanski
Don Symanski is a longtime friend of the Monastery and a warm, skillful teacher. He began the study of Kyudo with Kanjuro Shibata Sensei in 1980. He instructs in the Hekiryu Bishu Chikurinha form of Kyudo. Don apprenticed in bow making with Shibata Sensei's son, Nobuhiro Shibata, in Kyoto. Since 1991, he has made yumi for Kyudo students and taught students the proper use of the yumi and Kyudo as a meditation path.
Learn more about Don Symanski