Embodied Awakening of Silent Illumination
with Guo Gu
October 13 - 16, 2022
Over the centuries, Chan Buddhism has developed a distinct approach and language of awakening that is free from the shackles of gradual stages of practice, proliferations of theories, and the very limits of words and language, demonstrating the autonomy of Chan from the rest of the Buddhist tradition. Chan abandoned the complex descriptive terminology of Indian Buddhism in favor of embodied approaches to practice that was at once transformative and sudden.
One such approach is silent illumination, a body and experience-centered approach to awakening. In this retreat, students will explore in depth the writings of Chan master Hongzhi Zhengjue (1091-1157), and deepen their appreciation of the workings of mind, its subtle undercurrent feeling tones, the direct perceptions of sight and sound, and the nature of "experiencing."
Much like a zazen intensive, practitioners in this silent retreat will wake up before dawn, engage in sitting, moving and walking meditation, along with silent meals, caretaking practice, and liturgy.
As with all in-person retreats at the Monastery, participants are required to follow the current protocol for keeping everyone safe (this link is updated frequently so check back). Review the current protocol requirements before registering, and if you have further questions, please contact the registrar.
Financial concerns should not prevent you from attending a program at the Monastery. If you can't afford the program fee, you can see these options.
Teacher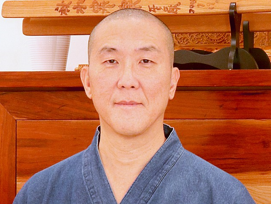 Guo Gu
Guo Gu (Dr. Jimmy Yu) is the founder of the Tallahassee Chan Center, the founder of the socially engaged intra-denominational Buddhist organization, Dharma Relief, and a professor of Buddhism and East Asian religions at Florida State University. He was a monk for nine years and one of the late Master Sheng Yen's senior and closest disciples. He is the author of The Essence of Chan (2012), Passing Through the Gateless Barrier (2016), and Silent Illumination (2021).
Learn more about Guo Gu