Entering Zen Practice
with Jody Hojin Kimmel, Sensei and Patrick Yunen Kelly
May 14, 2022
A space and time for those who are new to the path of the Zen and exploring the calling of the Bodhisattva: one who is dedicated to awakening for the benefit of all.
When we reopened our doors in March, we were delighted to welcome such a diverse, sincere and engaged group of people. We also saw that many of you are very new to Zen practice and have great questions: What are the Eight Gates of Zen Training? How might I continue to practice and train? What is trust? What does it mean to realize one's true nature? What are the forms we engage here at the Temple? What is "embodiment"?
This two-hour in-person seminar will present the basic essence of the Eight Gates of Zen, laying out a path of practice and awakening to our true nature. The 'gates' we will cover are Zazen, Study with a Teacher, Right Relationship: The Path of Compassion and the Moral teachings of Buddhism, Buddhist Study, Liturgy, Art Practice, Body Practice, and Work Practice.
These Zen gates are openings to what we call "our life". They are both subtle and practical. They are ways to bring ourselves alive and give life to others as we turn into the great mystery of this precious human birth. Please join us for question and response sessions that will hopefully allow you to experience more of the ease and joy of having stepped onto a path.
We strive to keep our retreat prices low and offer these programs by donation. This retreat is by donation, please pay what you can. It's important that the dharma is available to everyone. Thank you for your continued support.
You must be fully vaccinated and masked to participate in this event.
Teachers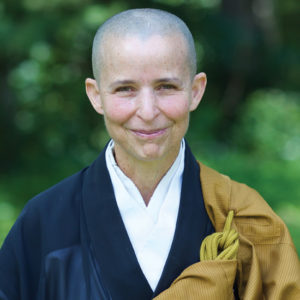 Jody Hojin Kimmel, Sensei
Jody Hojin Kimmel, Sensei received the priestly transmission (the transmission of the Precepts) from Daido Roshi, who began the process in 2009, and from Shugen Roshi, who completed the transmission in 2012. In 2017, she received full dharma transmission from Shugen Roshi. She serves as the Training Director for the Mountains and Rivers Order and Abbot of the Zen Center of NYC-Fire Lotus Temple . Hojin Sensei began her artistic career early and has taught drawing, ceramics, and painting, opening people up to the wonders and mysteries of the creative process and continues to offer Art Practices as part of her teaching. She has been in full-time residential training at the Monastery since 1990 and now shares her time at the Brooklyn temple.
Learn more about Jody Hojin Kimmel, Sensei