Practice Discussion – June
with Mn. Shoan Ankele
June 10, 2022
Intended for Practicing Members but also open to training students, this Sangha Practice Group will offer a place for support and discussion for those who would like to tap into a more intimate sense of community, with monastic Shoan serving as a facilitator and guide.
Friday, June 10th, 6:30–8:00 p.m.
Our online programs are offered by donation so that everyone can participate. We appreciate your support.
Teacher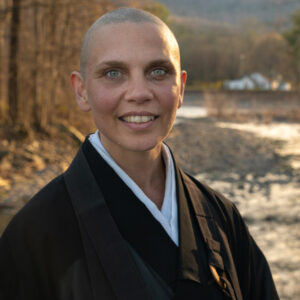 Mn. Shoan Ankele
Danica Shoan Ankele is a Dharma Holder and Senior Monastic in the Mountains and Rivers Order. A native of New York City, she first came to the Monastery as a sophomore in college and has been in full time residential training since 2007. She became a senior student in 2009 and took full monastic ordination with Shugen Roshi in 2015. Shoan is the Monastery's Creative Director and Training Coordinator. She also oversees our Tenkozan line of statues and naturally dyed fabrics, designed and produced on the Monastery grounds.
Learn more about Mn. Shoan Ankele