Nuts & Bolts of Zen Practice: Liturgy of the Heart Sutra
with Ron Hogen Green, Sensei
August 19, 2022
A continuing series which explores Liturgy, taking up the teachings of the Heart Sutra.
As usual there will be ample time for more questions and your thoughts you would like to share in this exploration. These sessions are open to anyone, and designed specifically with Practicing Members in mind.
Our online programs are offered by donation so that everyone can participate. We appreciate your support.
Teacher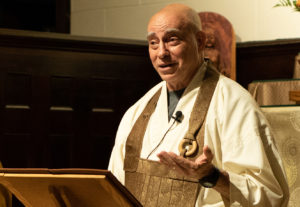 Ron Hogen Green, Sensei
Ron Hogen Green is a husband, father, grandfather, sports-enthusiast, retired podiatrist, and a lay teacher in the Mountains and Rivers Order. Hogen Sensei formally began practicing Zen in 1978 with Philip Kapleau Roshi, shortly after graduating medical school and entering private practice. In time, Hogen and his wife, Cindy Eiho Green, helped run the Denver Zen Center, an affiliate of Kapleau Roshi's Rochester Zen Center. He attended his first retreat at Zen Mountain Monastery in 1988, and not long after began studying with Daido Roshi. In 1993, Hogen completed his training in the Kapleau Lineage and was designated a senior student in the Mountains and Rivers Order. He and Eiho left Denver in 1995 and entered full time residency at ZMM. At the Monastery, Hogen served as Director of Operations for Dharma Communications for 10 years and, in 2000, ordained as a monastic. In 2007, Hogen Sensei returned to lay life, spending time with family while continuing to play an active role in the MRO, its practice centers and affiliates. In 2016, he received dharma transmission from Shugen Roshi, becoming the first lay teacher in the Order. He served as co-director of the Zen Center of NYC for a number…
Learn more about Ron Hogen Green, Sensei