Something About a Season—Summer Art Practice
with Jody Hojin Kimmel, Sensei
August 5 - 12, 2022
Ten thousand flowers in spring,
the moon in autumn,
a cool breeze in summer,
snow in winter.
If your mind isn't clouded by unnecessary things, this is the best season of your life.
~Wu-men~
The changing seasons of nature come forth on their own whether we ask then to or not. Each season, each situation, and every moment generously offers us an opportunity to see the mind—the mind that sometimes has trouble trusting how things are unfolding—and also shows what it is like to allow and trust. If your mind isn't clouded by unnecessary things, this is the best season of your life.
This Art Practice we will investigate something about a season in every way, shape and form we can imagine. What is this particular season we are moving with, right here, right now? How can we express it?
Your registration confirmation will include a link to the Zoom sessions. While working from our home studios, we will meet on-line together each week. You may work in any medium. Drop ins are welcome!
Our online programs are offered by donation so that everyone can participate.  As always, we appreciate your support.
Teacher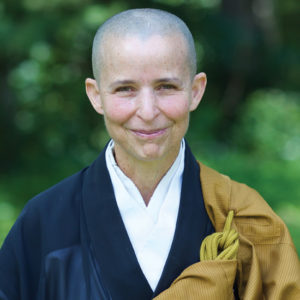 Jody Hojin Kimmel, Sensei
Jody Hojin Kimmel, Sensei received the priestly transmission (the transmission of the Precepts) from Daido Roshi, who began the process in 2009, and from Shugen Roshi, who completed the transmission in 2012. In 2017, she received full dharma transmission from Shugen Roshi. She serves as the Training Director for the Mountains and Rivers Order and Abbot of the Zen Center of NYC-Fire Lotus Temple . Hojin Sensei began her artistic career early and has taught drawing, ceramics, and painting, opening people up to the wonders and mysteries of the creative process and continues to offer Art Practices as part of her teaching. She has been in full-time residential training at the Monastery since 1990 and now shares her time at the Brooklyn temple.
Learn more about Jody Hojin Kimmel, Sensei