Illuminated Journal: Live Recordings & The Art of Noticing—A Dharma & Art Retreat
with Jody Hojin Kimmel, Sensei
July 16, 2022
Arrange whatever pieces come your way
—Virginia Woolf
To Illuminate: light, light up, throw light on, cast light upon, brighten, make brighter, shine on
An illuminated journal is an invitation to a journey of intimacy with the world. Through the art of noticing and noting, we meet and discover anew our immediate surroundings. We may find ourselves seeing—for the first time—what's right in front of our eyes.
There's no limit to what we can record and wonder about: far and near journeys; textures, colors, and patterns; bits of conversation. We can  join words, poems, and delightful descriptions with images, collage cut-outs, paste-in scraps, and swatches of pure color.
We will take up a very immediate form of illuminated journal practice, allowing our life to dash through the pages and leave mysterious tracks behind. Over time, we can step back and see how apparently random details cohere into memories that are distinct, unique and eternally fresh. Hojin Sensei will offer some guidance to get us started. Then, we'll head outside on journaling forays in the Temple neighborhood.
We will gather from 10 am – 4 pm, with a break for lunch. Please arrive 20 minutes early for registration so we can begin together.  Suggested donation is $35 or more, but please pay what you can. Everyone is welcome.
Materials: A blank book, one that feels good in your hands and that you would love to fill with multi-media impressions; a pouch of mark-making tools such as pens, pencils, markers, eraser, scissors, glue stick, tape, and watercolors; and perhaps fine writing pens like Microns (we recommend size 005 and size 01). We'll also have paper and other materials on hand at the Temple.
You must be fully vaccinated and masked to participate in this event.
Teacher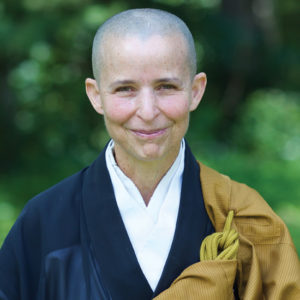 Jody Hojin Kimmel, Sensei
Jody Hojin Kimmel, Sensei received the priestly transmission (the transmission of the Precepts) from Daido Roshi, who began the process in 2009, and from Shugen Roshi, who completed the transmission in 2012. In 2017, she received full dharma transmission from Shugen Roshi. She serves as the Training Director for the Mountains and Rivers Order and Abbot of the Zen Center of NYC-Fire Lotus Temple . Hojin Sensei began her artistic career early and has taught drawing, ceramics, and painting, opening people up to the wonders and mysteries of the creative process and continues to offer Art Practices as part of her teaching. She has been in full-time residential training at the Monastery since 1990 and now shares her time at the Brooklyn temple.
Learn more about Jody Hojin Kimmel, Sensei