Entering the Path II: Stillness Into Movement
with Jody Hojin Kimmel, Sensei and Patrick Yunen Kelly
August 13, 2022
All day and all night, things come to mind and the mind attends to them; at one with them all, diligently carry on the Way.
—Dogen Zenji, Instructions for the Cook
The path of Zen begins when we learn how to settle the body and mind in zazen and find the still point within. But what happens when we get up from the meditation seat? And what about more complicated and demanding activities that require us to move quickly or interact with others? In such circumstances, we can easily lose the thread of practice.
What is practice in the midst of activity? There is a practice of being wholehearted and undivided in whatever we're doing, embodying beneficial activity no matter what is happening around us.
In this practice session we'll examine practice in the midst of activity, moving back and forth between zazen, kinhin (walking meditation), and reflective discussion on the "three minds": joyful mind, nurturing mind, and magnanimous mind. Cultivating these three minds offers us a way to maintain the thread of practice in the midst of great busyness, competing responsibilities, and interactions with other people.
We strive to keep our retreat prices low and offer these programs by donation. This retreat is by donation, please pay what you can. It's important that the dharma is available to everyone. Thank you for your continued support.
You must be fully vaccinated and masked to participate in this event. 
Teachers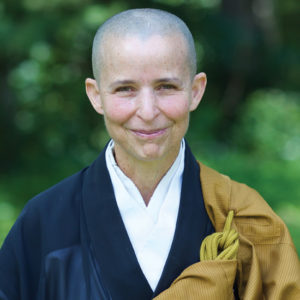 Jody Hojin Kimmel, Sensei
Jody Hojin Kimmel, Sensei received the priestly transmission (the transmission of the Precepts) from Daido Roshi, who began the process in 2009, and from Shugen Roshi, who completed the transmission in 2012. In 2017, she received full dharma transmission from Shugen Roshi. She serves as the Training Director for the Mountains and Rivers Order and Abbot of the Zen Center of NYC-Fire Lotus Temple . Hojin Sensei began her artistic career early and has taught drawing, ceramics, and painting, opening people up to the wonders and mysteries of the creative process and continues to offer Art Practices as part of her teaching. She has been in full-time residential training at the Monastery since 1990 and now shares her time at the Brooklyn temple.
Learn more about Jody Hojin Kimmel, Sensei