Premier Solo Performance
with Vangeline
July 9, 2022
On Saturday evening, Vangeline will premier a new solo work, followed by a Q&A with the artist. Please join us!
Developed in post-World War II  Japan, Butoh is a performance form characterized by deep investigation of  impermanence, authentic expression, and letting go. Butoh as a body practice is about "revealing" rather than "showing." In the same way that we reveal the mind to ourself through single pointed concentration in zazen, in Butoh we reveal our mind through attention in the body. So we can take this practice as a wonderful opportunity to practice concentration, regardless of our surrounding circumstances.
Please registration here for Saturday evening's performance. Attendees must be fully vaccinated and boosted. Either take a rapid test in the parking lot before entering, or wear a mask while you are on the grounds. You can see our updated protocol here.
Please enter at the Sangha House and check in with the front door greeter when you arrive.
You can read here from an interview with Vangeline from Tricycle magazine, and listen here where she is featured on the BBC in Dessa Darling's show Deeply Human.
This performance is by donation. Thank you for your support!
Teacher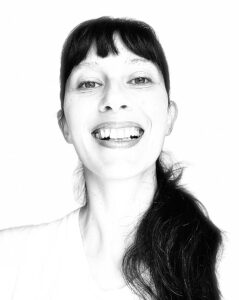 Vangeline
Vangeline is a teacher, dancer, and choreographer specializing in the Japanese postwar avant-garde movement form Butoh. She is the Artistic Director of the Vangeline Theater (NYC), a dance company firmly rooted in the tradition of Japanese Butoh while carrying it into the 21st century. She was born in Bourgogne, France and moved to New York in 1993. You are encouraged to read her full biography here. Widely regarded as an expert in her field, Vangeline has taught at Cornell University, New York University, Brooklyn College, CUNY, Sarah Lawrence, and Princeton University (Princeton Atelier). Film projects include a starring role alongside actors James Franco and Winona Ryder in the feature film by director Jay Anania, 'The Letter" (2012-Lionsgate). In recent years, she has been commissioned by triple Grammy Award-winning artists Esperanza Spalding, Skrillex, and David J. (Bauhaus). She is the author of the critically-acclaimed book: Butoh: Cradling Empty Space, which explores the intersection of butoh and neuroscience. Her work is the subject of CNN's "Great Big Story" "Learning to Dance with your Demons." She is featured here in an interview with Tricycle magazine, and here on the BBC in Dessa Darling's show Deeply Human. She is also the founder of the award-winning program " The Dream…
Learn more about Vangeline