Zen Essentials — Tending the Garden
with Mn. Shoan Ankele
August 18, 2022
Just as the hummingbird returns each day to gather nectar, so too daily contact with the nectar of the dharma can nourish and sustain us. And like the hummingbird, who has learned where to find the sweetest blossoms, we also need to discover where our best sources of spiritual sustenance lie.
In this in-person evening seminar, we'll investigate ways to cultivate practice in daily life so that we discover the blossom of the Way right where we are. How can we deepen our practice of zazen so that it nourishes our relationships and effects our ordinary activities? How might we integrate liturgy and dharma study so that our heart continues to open and our insight into reality develops? As the lush growth of summer starts to fade and the rhythms of autumn approach, it's a perfect time to turn toward tending the garden that is always in bloom.
The Essentials of Zen seminars offer an opportunity to work more informally with some of the MRO seniors and teachers. They are particularly geared towards those newer to practice, but are open to all practitioners. There will be plenty of time for questions and conversation.
As with all in-person retreats at the Temple, participants are required to be fully vaccinated and, until further notice, remain masked at all times inside the building. Of you have further questions, please contact the the Temple office.
This seminar is by donation.
Photo by Dulcey Lima on Unsplash
Teacher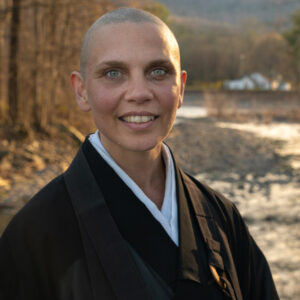 Mn. Shoan Ankele
Danica Shoan Ankele is a Dharma Holder and Senior Monastic in the Mountains and Rivers Order. A native of New York City, she first came to the Monastery as a sophomore in college and has been in full time residential training since 2007. She became a senior student in 2009 and took full monastic ordination with Shugen Roshi in 2015. Shoan is the Monastery's Creative Director and Training Coordinator. She also oversees our Tenkozan line of statues and naturally dyed fabrics, designed and produced on the Monastery grounds.
Learn more about Mn. Shoan Ankele