The Miraculous Moon—Ango Art Practice
with Jody Hojin Kimmel, Sensei
November 4 - 11, 2022
In a mountain field    Enthralled, so enthralled.    Returning all the way home
Accompanied by the       Autumn moon.   —Otagaki Rengetsu
Well, it's a marvelous night for a moondance, with the stars up above in your eyes.   —Van Morrison
We gather online for these Dharma and Art sessions working from our home studios, taking up various mediums of expression, with prompts offered to inspire our creative juices and imagination.
Evelyn Underhill writes in Mysticism about a mystic's way of seeing (paraphrased with some additions and omissions): Surrender yourself to be without selfish preoccupation. Clear your minds of prejudice. All that I ask is that we shall feel for a little time, in a special and undivided manner the delights on this earth, it can be anything we please, a growing plant, running water, little living things, a tree. Look at these things willfully yet tranquilly, refuse the messages which countless other aspects of the world are sending and so concentrate your whole attention in this one act of loving
This one act of loving
Ruth Ozeki writes "Maybe sometimes we have to make things up to tell the truths that alter outcomes. In other words we can make change happen, and we can't do this alone. I think this is the vital function of imagination—that we can create worlds and inhabit them, and invite people into them, and that inviting in is such an important part."
Let us invite ourselves in to feel the hints of a world which is vaster than that which we can describe. We'll explore this theme of The Miraculous Moon.
Your registration confirmation will include a link to the Zoom sessions. Drop ins are welcome! No previous experience necessary.
Our online programs are offered by donation so that everyone can participate, and for Ango participants this is part of your registration fee.  As always, we appreciate your support.
Teacher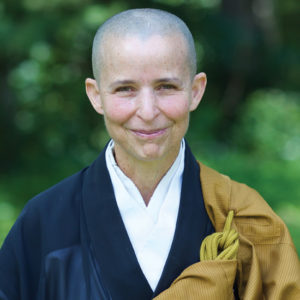 Jody Hojin Kimmel, Sensei
Jody Hojin Kimmel, Sensei received the priestly transmission (the transmission of the Precepts) from Daido Roshi, who began the process in 2009, and from Shugen Roshi, who completed the transmission in 2012. In 2017, she received full dharma transmission from Shugen Roshi. She serves as the Training Director for the Mountains and Rivers Order and Abbot of the Zen Center of NYC-Fire Lotus Temple . Hojin Sensei began her artistic career early and has taught drawing, ceramics, and painting, opening people up to the wonders and mysteries of the creative process and continues to offer Art Practices as part of her teaching. She has been in full-time residential training at the Monastery since 1990 and now shares her time at the Brooklyn temple.
Learn more about Jody Hojin Kimmel, Sensei