Coming Into Balance
with Robyn Ikyo Love
October 15, 2022
YS II.46 sthira sukham āsanam (translation: The posture is firm and comfortable.)
YS II.47. prayatna śaithilyānanta samāpattibhyām (translation:  We can meditate on the Infinite when we combine intelligent effort with relaxation.)
The Yoga Sūtra teaches us that there is a direct relationship between effort and ease in our bodies and our capacity to realize ourselves.  We do specific postures (āsana) and breathe in particular ways (prānāyāma) so we can cultivate this stable state of strength and flexibility.  Moving and breathing, we invite balance in our system – a balance that requires comfort and ease just as it needs sincere, intelligent effort.
In this retreat, we will learn physical practices that explore how these two forces – intelligent effort and relaxation/strength and flexibility – coexist in our bodies.  We will begin to discover this state of balance in our own system.  There will be time for discussion and shared reflection as well as personal practices of free movement which may include some writing and drawing.
**Open to beginners & all levels of experience
We strive to keep our retreat prices low and offer these programs by donation. This retreat is by donation, please pay what you can. It's important that the dharma is available to everyone. Thank you for your continued support.
You must be fully vaccinated and masked to participate in this event.
Teacher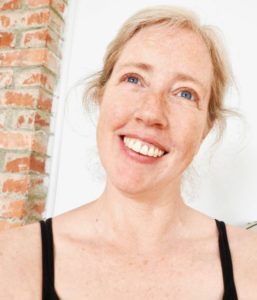 Robyn Ikyo Love
Ikyo Love is a certified yoga therapist (C-IAYT) and E-RYT500.  She is the founder of Atha Yoga School (www.athayoga.ca).  Ikyo also is a visual artist and longtime practitioner in the MRO.  She lives on the west coast of Newfoundland in Canada.
Learn more about Robyn Ikyo Love