Movie Night – Black Art: In the Absence of Light
with Jody Hojin Kimmel, Sensei
October 7, 2022
In 1976, the African American artist and scholar David Driskell curated the groundbreaking exhibit "Two Centuries of Black American Art." According to Henry Louis Gates, Jr., Driskell's exhibit "simultaneously consolidated the history of the canon of African American artists, and it launched a revolution in Black representation as well."
Please join us on Friday, October 7 for a screening of Black Art: In the Absence of Light, a documentary by Sam Pollard that surveys the history of Black art in the United States, with an emphasis on contemporary artists inspired by Driskell's exhibition. We'll begin with an optional period of zazen at 6:30pm; the screening will begin at 7:00pm, followed by a discussion with Hojin Sensei.
We strive to keep our retreat prices low and offer these programs by donation. This retreat is by donation, please pay what you can. It's important that the dharma is available to everyone. Thank you for your continued support.
You must be fully vaccinated and masked to participate in this event.
Teacher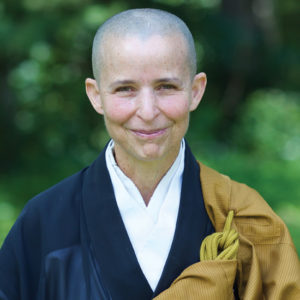 Jody Hojin Kimmel, Sensei
Jody Hojin Kimmel, Sensei received the priestly transmission (the transmission of the Precepts) from Daido Roshi, who began the process in 2009, and from Shugen Roshi, who completed the transmission in 2012. In 2017, she received full dharma transmission from Shugen Roshi. She serves as the Training Director for the Mountains and Rivers Order and Abbot of the Zen Center of NYC-Fire Lotus Temple . Hojin Sensei began her artistic career early and has taught drawing, ceramics, and painting, opening people up to the wonders and mysteries of the creative process and continues to offer Art Practices as part of her teaching. She has been in full-time residential training at the Monastery since 1990 and now shares her time at the Brooklyn temple.
Learn more about Jody Hojin Kimmel, Sensei