Inwood Hill Park Exploration and Art Practice
with Jody Hojin Kimmel, Sensei, Joshin Del Valle and Sanzen Cole
November 5, 2022
Let's come together as a sangha in Inwood Hill Park to learn about the history of the land we live and walk upon here in NYC and experience it intimately and directly. The day will include walking, time to eat together, and a simple art practice.
Situated at the tip of Manhattan, the 196-acre park is the site of the Shorakapok Forever Wild Preserve and is rich in geologic and human history. On this outing, we'll walk the Park's trails, visit geologically and ecological interesting features and take time to tune in to nature. We will also discuss the history of the native people who once lived in Inwood, which will be highlighted by a visit to the place where Native Americans supposedly sold Manhattan Island to the Dutch in 1626.
Hojin Sensei will guide us in an art practice exercise with nature-based prompts to help us integrate the Ango theme of "moon thusness" into our day as we connect with the wild within, and outside of us.
Wear: Comfortable and sturdy walking shoes with good tread, and non-cotton, comfortable walking clothes.
Bring: 2 liters of water or sports drink, lunch, and your favorite art supplies. All of this should be held in a backpack or other carrier that keeps your hands free.
*Meeting Place: Northwest Corner of 207th Street and Broadway (last stop on the 'A' line)
We hope to see you for this Ango Sangha Outing: Come one, come all!
We strive to keep our retreat prices low and offer these programs by donation. This retreat is by donation, please pay what you can. It's important that the dharma is available to everyone. Thank you for your continued support.
Teachers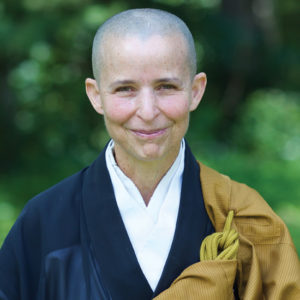 Jody Hojin Kimmel, Sensei
Jody Hojin Kimmel, Sensei received the priestly transmission (the transmission of the Precepts) from Daido Roshi, who began the process in 2009, and from Shugen Roshi, who completed the transmission in 2012. In 2017, she received full dharma transmission from Shugen Roshi. She serves as the Training Director for the Mountains and Rivers Order and Abbot of the Zen Center of NYC-Fire Lotus Temple . Hojin Sensei began her artistic career early and has taught drawing, ceramics, and painting, opening people up to the wonders and mysteries of the creative process and continues to offer Art Practices as part of her teaching. She has been in full-time residential training at the Monastery since 1990 and now shares her time at the Brooklyn temple.
Learn more about Jody Hojin Kimmel, Sensei
Joshin Del Valle
Sandra Joshin Del Valle was a civil rights lawyer for over twenty years before becoming a high school English teacher. She is a member of the Temple Advisory Council and was a member of the MRO's Beyond Fear of Differences group. She became a student of Shugen Roshi in 2011 and a jukai student in 2016.
Learn more about Joshin Del Valle
Sanzen Cole
James Sanzen Cole started working in New York City Public Schools first as an Outward Bound instructor and later as a middle school science teacher. Since 2002, he has worked as a middle school assistant principal. Sanzen is a member of the Earth Initiative. He became a jukai student in 2013.
Learn more about Sanzen Cole