Exactly As It Is: The Art Practice of Breathing Into Expression
with Jody Hojin Kimmel, Sensei
October 8, 2022
If each stroke is our entire breath, how dare we correct it?
—Kaz Tanahashi
Breath is our vital life force. To breathe is to be alive!
In zazen, after settling into a mountain mudra posture, we locate the breath as it moves through the body, then place our full awareness on it. We allow the breath to breathe, naturally. As thoughts appear, we can see their nature without attaching or suppressing; we release all that arises into the oceanic rhythm of the breath. Mindfully breathing, we can discover the way to be fully present and perhaps touch the experience of just resting, moment to moment, in what is—all-inclusive.
In this day of practice we'll explore cutting loose into the expression of breath. First we'll notice how the breath—which is no other than ki or energy—enters the body. Then we'll express this awareness through drawing, painting, sound and movement: "shapes of awake." How can this expression of ki function as the potential for all of our actions and reactions? How can it allow us to discover the path of peace?
We'll also hear guided readings from the Ānāpānasati Sutta, a discourse by the Buddha that examines the awareness of breath (ānāpāna) as a focus for meditation. Be prepared to sit zazen and then get messy with earthy materials. All are welcome! (materials will be provided)
*Because of the ongoing covid situation, we are asking that all participants be fully vaccinated and present a negative rapid COVID test (antigen test) taken the morning of the retreat. When traveling to the temple on public transportation, please remain in a tight fitted mask. This retreat will be unmasked. We will not provide COVID tests at the temple, so please provide your own. It is also fine to participate fully masked. Thank you for your cooperation in this.
You must be fully vaccinated to participate in this event.
Teacher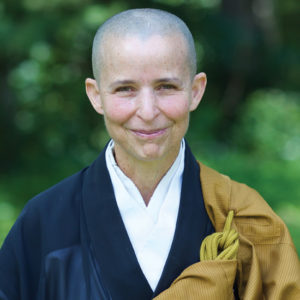 Jody Hojin Kimmel, Sensei
Jody Hojin Kimmel, Sensei received the priestly transmission (the transmission of the Precepts) from Daido Roshi, who began the process in 2009, and from Shugen Roshi, who completed the transmission in 2012. In 2017, she received full dharma transmission from Shugen Roshi. She serves as the Training Director for the Mountains and Rivers Order and Abbot of the Zen Center of NYC-Fire Lotus Temple . Hojin Sensei began her artistic career early and has taught drawing, ceramics, and painting, opening people up to the wonders and mysteries of the creative process and continues to offer Art Practices as part of her teaching. She has been in full-time residential training at the Monastery since 1990 and now shares her time at the Brooklyn temple.
Learn more about Jody Hojin Kimmel, Sensei