Introduction to Zen Training Weekend
with Geoffrey Shugen Arnold, Roshi, Mn. Shoan Ankele and Mn. Gokan Bonebakker
February 3 - 5, 2023
Are you new to meditation or Zen Buddhist practice? Have you read books about Zen, or been doing meditation on your own? Do you think you'd like to study with a teacher? Designed for those new to Zen or formal Zen training, this introductory retreat allows you to immerse yourself in Zen practice and experience the Monastery's Eight Gates program. With a partial re-opening underway, we are happy to offer this on-site retreat safely.
During the weekend, you'll receive instruction in zazen (seated meditation) and have a chance to experience and ask questions about liturgy, work as sacred activity, art and body practice, the teachings of wisdom and compassion, and Buddhist study. You'll learn how to establish a consistent home practice and receive guidance on bringing it into your work, family, and relationships. And you'll have the opportunity for private interview with a teacher to explore the importance of the teacher-student relationship for the spiritual path.
This retreat also gives you a chance to encounter the Monastery cloister—a dynamic spiritual community whose everyday activities and concerns are simplified. By entering the cloister for a weekend, you experience a place uniquely conducive to spiritual practice and to connecting to your own innate silence and stillness.
This retreat is a prerequisite for attending a sesshin or becoming a formal MRO student.
As with all in-person retreats at the Monastery, participants are required to follow the current protocol for keeping everyone safe (this link is updated frequently so check back). Review the current protocol requirements before registering, and if you have further questions, please contact the registrar.
Financial concerns should not prevent you from attending a program at the Monastery. If you can't afford the program fee, you can see these options.
Teachers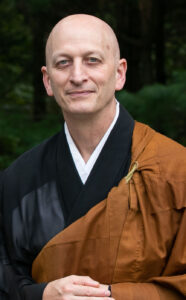 Geoffrey Shugen Arnold, Roshi
Geoffrey Shugen Arnold, Roshi is the Head of the Mountains and Rivers Order and Abbot of Zen Mountain Monastery. Shugen entered full-time residential training in 1986 after studying mathematics and receiving a degree in classical music. He received dharma transmission from John Daido Loori, Roshi in 1997. His teachings on Zen, social justice and environmental stewardship have appeared in various Buddhist journals, and The Best Buddhist Writing 2009 (Shambhala Publications). His book of poetry, O, Beautiful End, a collection of Zen memorial poems, was published in 2012.
Learn more about Geoffrey Shugen Arnold, Roshi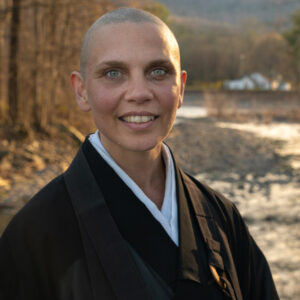 Mn. Shoan Ankele
Danica Shoan Ankele is a Dharma Holder and Senior Monastic in the Mountains and Rivers Order. A native of New York City, she first came to the Monastery as a sophomore in college and has been in full time residential training since 2007. She became a senior student in 2009 and took full monastic ordination with Shugen Roshi in 2015. Shoan is the Monastery's Creative Director and Training Coordinator. She also oversees our Tenkozan line of statues and naturally dyed fabrics, designed and produced on the Monastery grounds.
Learn more about Mn. Shoan Ankele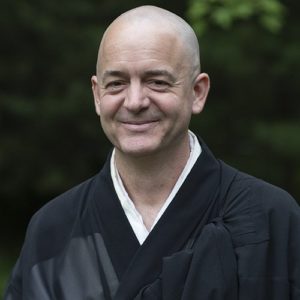 Mn. Gokan Bonebakker
Bear Gokan Bonebakker is a senior monastic and a Dharma Holder. He first came to the Monastery in 1994, and has been in residence since 2007. Gokan is the Operations Director, helps coordinate the National Buddhist Prison Sangha, and works in the orchard.
Learn more about Mn. Gokan Bonebakker