Decolonizing Awakening on Turtle Island
with Eduardo Duran
December 21, 2022
When Buddhist Dharma teachers came from Asia in the last century, the practice was taken up mostly by Westerners who interpreted and organized through their western filters, language, and systems of practice. These parameters of practice and training, consequently, often left out a whole range of perspectives of interested practitioners, leaving many Black, Indigenous, Asian and people of color feeling ignored, invalidated, and unsupported by this new 'colonial' dharma practice.
Turtle Island requires a different approach to the profound truth of suffering at the heart of the Buddha's teachings. We will explore this as understood in Indigenous ceremony, as we meet on the Solstice, the day of the Sun's death and rebirth. Dr. Duran will explore issues of moral injury and intergenerational trauma, and how Western sangha members are called to deal with issues within dharma practice which will require discomfort as well as commitment, as we allow our suffering to shape-shift into what Thich Nhat Hahn has called "the compost of enlightenment." Acknowledging these cultural tensions are needed to open a direct and clear path to awakening.
Join us for this evening discussion with plenty of time for sincere questions and exploration.
Your registration confirmation will include a Zoom link.
Image: Chaco Sun Dagger on the Solstice, Chaco Canyon
Teacher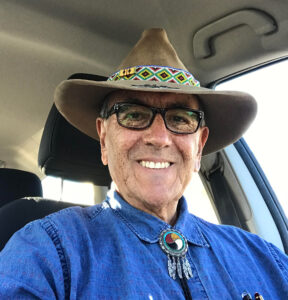 Eduardo Duran
Ed Duran (Apache/Tewa/Lakota) is a psychologist who has been working in indigenous communities most of his professional career. He is a Vietnam Veteran who started his academic training after being discharged from the US Navy. He has been involved in Buddhist and traditional Native practices for many years, and his work is informed by traditional Indigenous understanding of heart knowing. Eduardo is the author of Buddha in Redface (Writers Club Press, 2003), a story that deals with these traditions as well as our karmic relationship to the Earth. He is also the author of Healing the Soul Wound: Trauma-informed Counseling for Indigenous Communities and Native American Postcolonial Psychology. He presently lives outside of Bozeman, Montana.
Learn more about Eduardo Duran