The Ten Thousand Things—Winter Art Practice
with Jody Hojin Kimmel, Sensei
February 3 - 17, 2023
Everything we encounter provides the opportunity to meet the creative source. It is right here in ourselves always standing at the gateway of awe. It will take a risk, to be sure, a risk whose name we may know as surrender, as dying to the known, as we are welcomed to our true home. —Hojin Sensei
in his fascicle Genjō Koan, Dogen Zenji wrote: "To study the Buddha way is to study the self. To study the self is to forget the self. To forget the self is to be enlightened by ten thousand things. When enlightened by ten thousand things, the body and mind as well as the bodies and minds of others drop away."
What is 'studying the self?' What is the 'self' of self-expression, and what is forgetting? How might ten thousand things advance to realize the self? Master Yunmen posed the question: "Everybody has a light inside. When you're looking for it, you can't see; it's dark, dark, hidden. What is this light that everybody has?"
Everyone is welcome to the Ten Thousand Things Winter Art Practice where we will explore the study of self as a creative process. Participants may work in any medium in your home studio with inspiring Dharma words and  prompts offered by Hojin Sensei to spark the fire of our innate creativity.
Your registration confirmation will include a link to the Zoom sessions. Drop ins are welcome! No previous experience necessary.
Our online programs are offered by donation so that everyone can participate, and for Ango participants this is part of your registration fee.  As always, we appreciate your support.
Teacher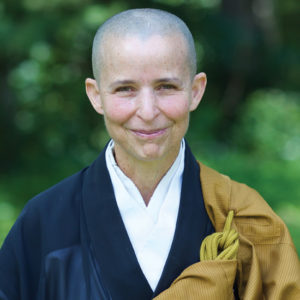 Jody Hojin Kimmel, Sensei
Jody Hojin Kimmel, Sensei received the priestly transmission (the transmission of the Precepts) from Daido Roshi, who began the process in 2009, and from Shugen Roshi, who completed the transmission in 2012. In 2017, she received full dharma transmission from Shugen Roshi. She serves as the Training Director for the Mountains and Rivers Order and Abbot of the Zen Center of NYC-Fire Lotus Temple . Hojin Sensei began her artistic career early and has taught drawing, ceramics, and painting, opening people up to the wonders and mysteries of the creative process and continues to offer Art Practices as part of her teaching. She has been in full-time residential training at the Monastery since 1990 and now shares her time at the Brooklyn temple.
Learn more about Jody Hojin Kimmel, Sensei