Self-Doubt and Profound Trust
with Geoffrey Shugen Arnold, Roshi
February 11, 2023
If you want to attain the matter of suchness, you must be a person of suchness. You already are a person of suchness. Why worry about the matter of suchness? 
—Master Dogen's Shobogenzo  fascicle "Suchness"
Since every dharma practitioner already possesses Buddha nature, the teachings encourage us to practice with confidence and faith. This allows us to enter more deeply and freely into our meditation and study, and to aspire to enlightenment. However, a great many Western practitioners carry strong currents of self-doubt, self-criticism and even self-hatred. This can affect how we hear the teachings and then practice them. Facing one's normal distractedness, self-clinging, and karmic regrets can be interpreted as signs and confirmations of one's inadequacy as a practitioner and human being. And yet Dogen taught, "Without exception, everyone is a vessel of buddhadharma. Never think that you are not a vessel."
In this daylong retreat, we'll examine and discuss some of the prevalent and powerful forces that instill such beliefs of insufficiency within us so we can see into their creation. In this way, we see that such thoughts and emotions are not who we are but what we have learned. We'll then look at various practices that can heal and transform, with careful attention to how we can misunderstand the teachings and use them to strengthen our self-disparaging views rather than to liberate us.
A donation of $75 is suggested but please pay what you can.
Because of the ongoing COVID situation, we are asking that all participants be fully vaccinated and present two negative rapid COVID tests (antigen tests), the first taken 48 hours before the start of the retreat, and the second taken immediately before joining the retreat. Please email a photo of the first (48h) test to: zcnyc@dharma.net. We will not be providing COVID tests at the temple, so please provide your own.
Teacher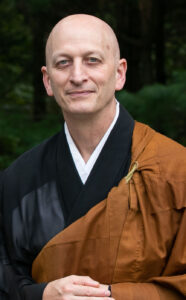 Geoffrey Shugen Arnold, Roshi
Geoffrey Shugen Arnold, Roshi is the Head of the Mountains and Rivers Order and Abbot of Zen Mountain Monastery. Shugen entered full-time residential training in 1986 after studying mathematics and receiving a degree in classical music. He received dharma transmission from John Daido Loori, Roshi in 1997. His teachings on Zen, social justice and environmental stewardship have appeared in various Buddhist journals, and The Best Buddhist Writing 2009 (Shambhala Publications). His book of poetry, O, Beautiful End, a collection of Zen memorial poems, was published in 2012.
Learn more about Geoffrey Shugen Arnold, Roshi