Intermediate Kyudo: Zen Archery Intensive
with Don Symanski
August 14 - 20, 2023
This is one of the foremost Kyudo training opportunities in the US. You'll receive personalized instruction in the basic principles of the kyudo form as well as formless aspects of Kyudo as a meditation practice. This retreat is designed for anyone who has taken "first shot" at the Monastery or elsewhere. Bring your own bow, or let us know if you would like to borrow one ahead of time. Please inquire if you have any other question of eligibility.
As with all in-person retreats at the Monastery, participants are required to follow the current protocol for keeping everyone safe (this link is updated frequently so check back). Review the current protocol requirements before registering, and if you have further questions, please contact the registrar.
Financial concerns should not prevent you from attending a program at the Monastery. If you can't afford the program fee, you can see these options.
Teacher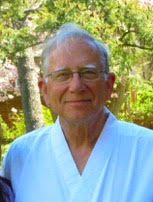 Don Symanski
Don Symanski is a longtime friend of the Monastery and a warm, skillful teacher. He began the study of Kyudo with Kanjuro Shibata Sensei in 1980. He instructs in the Hekiryu Bishu Chikurinha form of Kyudo. Don apprenticed in bow making with Shibata Sensei's son, Nobuhiro Shibata, in Kyoto. Since 1991, he has made yumi for Kyudo students and taught students the proper use of the yumi and Kyudo as a meditation path.
Learn more about Don Symanski