Mountain Bowl, Mountain Fire—A Clay Retreat
with Jody Hojin Kimmel, Sensei and Katie Yosha Scott-Childress
August 9 - 13, 2023
We are happy to again to welcome participants for this four-day clay retreat. We will begin working with wet clay and work through the week towards a day of glazing and Raku firing. This year we're celebrating this dynamic duo leading this retreat together for over 16 years!
We'll learn to form clay bowls by hand, landing in the moment as we feel the clay respond to our every touch. Alongside this will be a joyous journey of exploring mark-making as we collect a palette of colors and pigments from Mount Tremper's mountain body and pigments culled from the nearby Esopus River. 
With our creations dried, we will glaze the work and fire it in a wondrous  600-year-old traditional Japanese firing known as raku (translated as "relaxed ware"). We will also explore some other firing methods with stoneware glazes as well as a sawdust firing. 
The retreat will take place mostly outdoors rain or shine, with a covered area where we can work.
Register early as there is limited enrollment and this retreat tends to fill quickly. Be sure to arrive for registration and a light supper by 5pm on August 9th.
As with all in-person retreats at the Monastery, participants are required to follow the current protocol for keeping everyone safe (this link is updated frequently so check back). Review the current protocol requirements before registering, and if you have further questions, please contact the registrar.
Financial concerns should not prevent you from attending a program at the Monastery. If you can't afford the program fee, you can see these options.
Teachers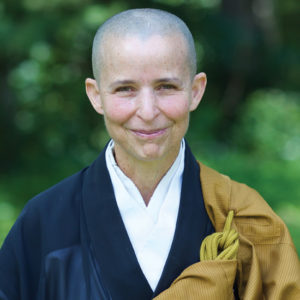 Jody Hojin Kimmel, Sensei
Jody Hojin Kimmel, Sensei received the priestly transmission (the transmission of the Precepts) from Daido Roshi, who began the process in 2009, and from Shugen Roshi, who completed the transmission in 2012. In 2017, she received full dharma transmission from Shugen Roshi. She serves as the Training Director for the Mountains and Rivers Order and Abbot of the Zen Center of NYC-Fire Lotus Temple . Hojin Sensei began her artistic career early and has taught drawing, ceramics, and painting, opening people up to the wonders and mysteries of the creative process and continues to offer Art Practices as part of her teaching. She has been in full-time residential training at the Monastery since 1990 and now shares her time at the Brooklyn temple.
Learn more about Jody Hojin Kimmel, Sensei