Touching the Earth: Journey to Prospect Park
with Jody Hojin Kimmel, Sensei
March 4, 2023
Urban dwellers, isn't it wonderful that we can stay right here in city to get more deeply in touch with nature and ground ourselves in our earth bodies? This community gathering will take us on a journey and exploration of Prospect Park, one of NYC's oldest and most iconic parks located in the heart of Brooklyn.
In this outing we'll focus on developing our awareness of the local: What are the trees that surround us? What are some of the flora and fauna that we see everyday? Can we identify some of the patterns that occur as we see where and how things are growing? What small, but impactful actions can we take to care for the planet we love as we step on the earth within a path?
This will be a meandering guided stroll through the Park covering over approximately 2 miles on paved roads. Within the park, we'll sit together, engage in art practice and get to know our NYC trees through the NYC Parks Department's newly improved tree map.
Wear comfortable walking shoes. Bring paper and a few mark-making supplies, like pens and pencils, bring lunch and water. We will all meet at park entrance near Grand Army Plaza at 10:00 AM. (*note-if it's raining we will cancel)
With Hojin Sensei and Field Guides Sanzen Cole and Joshin DelValle.
Teacher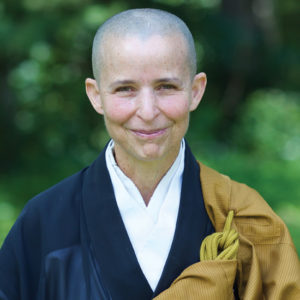 Jody Hojin Kimmel, Sensei
Jody Hojin Kimmel, Sensei received the priestly transmission (the transmission of the Precepts) from Daido Roshi, who began the process in 2009, and from Shugen Roshi, who completed the transmission in 2012. In 2017, she received full dharma transmission from Shugen Roshi. She serves as the Training Director for the Mountains and Rivers Order and Abbot of the Zen Center of NYC-Fire Lotus Temple . Hojin Sensei began her artistic career early and has taught drawing, ceramics, and painting, opening people up to the wonders and mysteries of the creative process and continues to offer Art Practices as part of her teaching. She has been in full-time residential training at the Monastery since 1990 and now shares her time at the Brooklyn temple.
Learn more about Jody Hojin Kimmel, Sensei