Unboxing Gender
with Jody Hojin Kimmel, Sensei and Sarah Taisho Sands
March 18, 2023
Let us come together and look closely into the word gender until it shines. What is our experience of gender? What do we remember? Where do we locate its borders or flesh out its form? Where are the areas where we might still feel boxed in by language, by groups, or by our own expectations and attachments? How might it be when we are given full permission to 'unbox' it, free it from the definitions and narratives we are asked to conform to? And how does all of this relate to our Dharma practice and the path of developing Bodhicitta?
We will explore these questions using a variety of guided group activities and discussions drawing on materials from Zenju Earthlyn Manual, Rita Gross, Abigail Thorn, Alok Vaid-Menon, and the Vimalakirti Sutra. There will also be periods of zazen and opportunities for journaling as well as art practices that allow a more deeply personal exploration. All are welcome.
Because of the ongoing COVID situation, we are asking that all participants present two negative rapid COVID tests (antigen tests), the first taken 48 hours before the start of the retreat, and the second taken immediately before joining the retreat. Please email a photo of the first (48h) test to: zcnyc@dharma.net. We will not be providing COVID tests at the temple, so please provide your own.
Teachers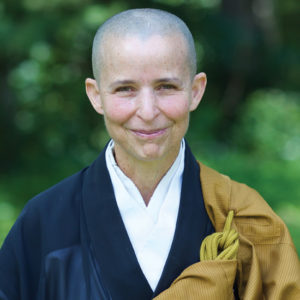 Jody Hojin Kimmel, Sensei
Jody Hojin Kimmel, Sensei received the priestly transmission (the transmission of the Precepts) from Daido Roshi, who began the process in 2009, and from Shugen Roshi, who completed the transmission in 2012. In 2017, she received full dharma transmission from Shugen Roshi. She serves as the Training Director for the Mountains and Rivers Order and Abbot of the Zen Center of NYC-Fire Lotus Temple . Hojin Sensei began her artistic career early and has taught drawing, ceramics, and painting, opening people up to the wonders and mysteries of the creative process and continues to offer Art Practices as part of her teaching. She has been in full-time residential training at the Monastery since 1990 and now shares her time at the Brooklyn temple.
Learn more about Jody Hojin Kimmel, Sensei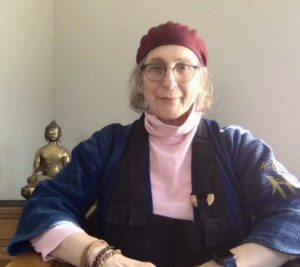 Sarah Taisho Sands
Sarah Taisho Sands has been a painter for over 40 years, with careers as both a Professor of Art and a Technical Specialist in Art Materials. In 2013 she was the first openly Trans person to enter practice and long term residency at Zen Mountain Monastery. A formal student since 2014, she received  Jukai with Shugen Roshi in 2019. One of the original founders of the TGNC Sangha Practice and Affinity Group, she helped create and organize the annual Transgender Day of Remembrance and Resilience, and continues to facilitate residential training sessions on gender issues as part of ZMM's Beyond Fear of Differences work, as well as working to increase awareness thru TGNC and LGBTQ+ centered programming.
Learn more about Sarah Taisho Sands