Kado-Ikebana: The Way of Flowers
with Marcia Shibata
June 10, 2023
Kado-Ikebana is a contemplative art practice revealing the relationship between nature, space, and human awareness (or unawareness). The practice simultaneously reveals the inner relationship between our true nature and the misconceptions we have about ourselves. While the very ground of our being is nature, and thus natural, through close study we may find ways in which we have become unnatural. How wonderful to come into our beauty and balance!
The daring vibrant beauty and rawness of nature wakes us up through her 10,000 expressions and compels us to see what really is—both inside and outside—in a gentle, welcoming, or startling way. Through Kado, we will learn how the universal principles of Heaven, Earth, and Humanity are the natural unfolding of all life, and are expressed in all of nature, which includes ourselves and our day-to-day lives.
All students attending this program will be met at the level of skill and understanding that they enter with, be it as beginners or as persons with more experience.
Materials Need:  The temple will have materials for all students. This includes the organic material and necessary containers etc. If you have you own cutters, bring them to the program.
If you are new to Kado, it is strongly suggested that you also attend the Friday evening Introduction to Kado seminar.
Teacher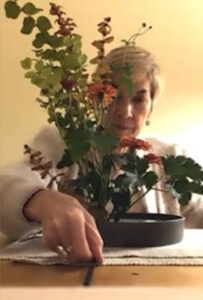 Marcia Shibata
Marcia Shibata began her study of Ikebana and the Way of the Buddha on nearly the same day in 1974. She was introduced to both disciplines by her teacher Chögyam Trungpa, who, in addition to being a scholar, meditation master, and Dharma teacher, was skilled in many arts, including calligraphy, poetry, ikebana, photography, and traditional Tibetan painting and dance. From 1980 to 1985 Marcia lived in Japan studying Ikebana, tea ceremony, Kyudo, and Japanese language and culture, and maintained close ties to Japan for the next 6 years. She has taught Ikebana in the US and Europe since 1983, and is currently establishing a fresh school of  Kado-Ikebana and Dharma practice in Hamburg, Germany and in San Miguel de Allende, Mexico. We are grateful to be able to host Marcia at Fire Lotus Temple. Don't miss the rare opportunity to study with a Master!
Learn more about Marcia Shibata