Introduction to Kado: Natural Flowers
with Marcia Shibata
June 9, 2023
Kado comes from a Chinese phrase that means "the Way of Flowers." In this case "flower" represents the entire rainbow of livings plants, from the smallest delicate flower to mighty trees. The practice of Kado began in China more than 2,300 years ago and was later introduced to and assimilated in Japanese culture. Eventually, the Japanese changed the name to Ikebana, which means living or natural flowers. Using classical Ikebana forms, Kado-Ikebana can offer clarity as we experience the inherent wisdom of nature, in ourselves and in others.
The goal of the Kado-Ikebana is not to make pleasant flower arrangements, but to cultivate an appreciation in every moment for everything, learning to work with so-called 'obstacles,' and developing respect and reverence for all forms of life. Please join us for this Friday evening seminar as Marcia introduces the Way of Flowers.
Schedule:    
6:30pm to 7:00pm – Zazen
7:00pm to 8:30pm – Seminar with Marcia Shibata
Teacher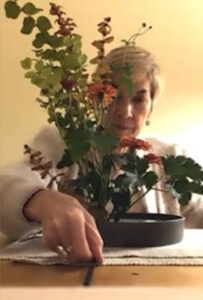 Marcia Shibata
Marcia Shibata began her study of Ikebana and the Way of the Buddha on nearly the same day in 1974. She was introduced to both disciplines by her teacher Chögyam Trungpa, who, in addition to being a scholar, meditation master, and Dharma teacher, was skilled in many arts, including calligraphy, poetry, ikebana, photography, and traditional Tibetan painting and dance. From 1980 to 1985 Marcia lived in Japan studying Ikebana, tea ceremony, Kyudo, and Japanese language and culture, and maintained close ties to Japan for the next 6 years. She has taught Ikebana in the US and Europe since 1983, and is currently establishing a fresh school of  Kado-Ikebana and Dharma practice in Hamburg, Germany and in San Miguel de Allende, Mexico. We are grateful to be able to host Marcia at Fire Lotus Temple. Don't miss the rare opportunity to study with a Master!
Learn more about Marcia Shibata