Ango Intensive: The Liberating Path Within Life and Death
with Geoffrey Shugen Arnold, Roshi
May 11 - 14, 2023
The great way of all buddhas, thoroughly practiced, is liberation and realization.
"Liberation" means that in birth you are liberated from birth [life],
and in death you are liberated from death.
~ Eihei Dogen
The path of the Buddha is a path of liberation from the suffering, confusion and unhappiness that we experience in our living and dying. Amidst the ordinary moments of satisfaction and joy—because they are so fleeting—we often struggle to find our way. The uncertainty of life along with the certainty of death can make these natural states, shared by all living things, difficult and strangely remote. True liberation is not an escape from the world but an intimate realization of the real nature of self and other, things and worlds. When we are fearful of our aging, sickness and death, then it's difficult to be free of anxiety and hesitation as we live each day.
In this Intensive we will blend together sitting meditation with teachings and discussions about some of the central concerns that we have around life and death and the practices that help us find more peace and freedom: fear & anxiety, courage & acceptance; loss & grief, letting go and going beyond. Most importantly, we will explore how the true nature of self—empty of any fixed characteristic—is the essence of in birth you are liberated from birth, and in death you are liberated from death.
All living things experience birth and death, and in their essence, are naturally liberated within birth and death. Dharma practice invites us into the ancient and ever present wisdom of our own original state of ease.
**Thursday arrival required for this retreat. For the online-only registration click here**
As with all in-person retreats at the Monastery, participants are required to follow the current protocol for keeping everyone safe (this link is updated frequently so check back). Review the current protocol requirements before registering, and if you have further questions, please contact the registrar.
Financial concerns should not prevent you from attending a program at the Monastery. If you can't afford the program fee, you can see these options.
Teacher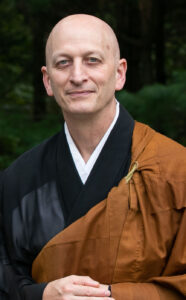 Geoffrey Shugen Arnold, Roshi
Geoffrey Shugen Arnold, Roshi is the Head of the Mountains and Rivers Order and Abbot of Zen Mountain Monastery. Shugen entered full-time residential training in 1986 after studying mathematics and receiving a degree in classical music. He received dharma transmission from John Daido Loori, Roshi in 1997. His teachings on Zen, social justice and environmental stewardship have appeared in various Buddhist journals, and The Best Buddhist Writing 2009 (Shambhala Publications). His book of poetry, O, Beautiful End, a collection of Zen memorial poems, was published in 2012.
Learn more about Geoffrey Shugen Arnold, Roshi