Undivided Activity—Ango Art Practice
with Jody Hojin Kimmel, Sensei
April 7 - May 19, 2023
Contemplation and expressions on the Four Signs of Sentient Existence: Birth, Aging, Sickness, and Death
Just as we see the seasons unfold (wherever we are located), we can see the many births occurring all around us. We can see the endless succession of births occurring within this very body and mind with each moment. Turning our attention to the many expressions of sickness – physical, emotional, spiritual – to see what else they are.  Let us contemplate death –closely within our body and mind, the death of others –the nature of the ten thousand things.
In these sessions we will explore – change and impermanence – the reality in front of our eyes as it shows up in our own person and in life around us. "Birth is undivided activity, Death is undivided activity," Where do we find the self? Let us enter the circle of wonder around birth, aging, sickness, and death – all undivided activities. How do we express it?
Everyone is welcome to this Ango Art Practice. Participants may work in any medium in your home studio with inspiring Dharma words and prompts offered by Hojin Sensei to spark the fire of our innate creativity.
Your registration confirmation will include a link to the Zoom sessions. Drop ins are welcome! No previous experience necessary.
Our online programs are offered by donation so that everyone can participate, and for Ango participants this is part of your registration fee.  As always, we appreciate your support.
Teacher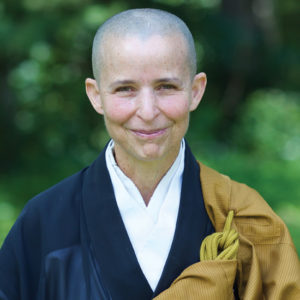 Jody Hojin Kimmel, Sensei
Jody Hojin Kimmel, Sensei received the priestly transmission (the transmission of the Precepts) from Daido Roshi, who began the process in 2009, and from Shugen Roshi, who completed the transmission in 2012. In 2017, she received full dharma transmission from Shugen Roshi. She serves as the Training Director for the Mountains and Rivers Order and Abbot of the Zen Center of NYC-Fire Lotus Temple . Hojin Sensei began her artistic career early and has taught drawing, ceramics, and painting, opening people up to the wonders and mysteries of the creative process and continues to offer Art Practices as part of her teaching. She has been in full-time residential training at the Monastery since 1990 and now shares her time at the Brooklyn temple.
Learn more about Jody Hojin Kimmel, Sensei