Meeting Buddhas and Bodhisattvas: Tour of the Metropolitan Museum of Art
with Jody Hojin Kimmel, Sensei and Ikumi Kaminishi
April 22, 2023
Have you ever wondered how to tell the difference between the images of the buddhas and bodhisattvas? Or, what does it mean that there are so many identities of buddhas and bodhisattvas in the first place? Shakyamuni Buddha, Amitabha Buddha, Maitreya Buddha to name a few, and if we include bodhisattvas, the list is extensive. Buddhist art is built on this expansive pantheon.
The permanent collection of Buddhist art at the Metropolitan Museum of Art offers an opportunity to learn some key iconographic differences of the buddhas and bodhisattvas from different time periods and regions, and to consider how such diversity reflects Buddhist teachings and cultural backgrounds. Our tour aims to exchange views and ideas how artworks may help us to understand Buddhism, its practices, and our lives.
We will meet at the Asian Art Collection Gallery, on the second floor of the Museum just above the Great Hall, at 1:45pm to begin our tour. We will likely end before 4:00 pm, so there will be time to continue enjoying the museum on your own if you like.
Admission to the Met is "pay what you wish" for NY residents and for students from NY, NJ, and CT. Otherwise, admission is $30 for adults; $22 for seniors; and $17 for students.
2:00pm – 4:00pm
Donations are appreciated to help support our efforts during this time.
Teachers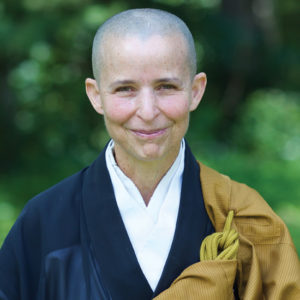 Jody Hojin Kimmel, Sensei
Jody Hojin Kimmel, Sensei received the priestly transmission (the transmission of the Precepts) from Daido Roshi, who began the process in 2009, and from Shugen Roshi, who completed the transmission in 2012. In 2017, she received full dharma transmission from Shugen Roshi. She serves as the Training Director for the Mountains and Rivers Order and Abbot of the Zen Center of NYC-Fire Lotus Temple . Hojin Sensei began her artistic career early and has taught drawing, ceramics, and painting, opening people up to the wonders and mysteries of the creative process and continues to offer Art Practices as part of her teaching. She has been in full-time residential training at the Monastery since 1990 and now shares her time at the Brooklyn temple.
Learn more about Jody Hojin Kimmel, Sensei
Ikumi Kaminishi
Ikumi Kaminishi is an Associate Professor Emerita of Asian Art History. specializing in Japanese art and culture with particular focuses on Buddhist art and medieval illustrated hand-scrolls (emakimono). She explores visual art as paradigms of Buddhist upaya (skillful means), a didactic method of helping others to enlightenment.
Learn more about Ikumi Kaminishi