Chado: The Zen Art of Tea
with Pei-Tsen Tao and Andrew Hobai Pekarik
September 14 - 17, 2023
The ritualization of sharing tea began in China and was further formalized by Zen practitioners in Japan. It's apotheosis, so to speak, was in 16th and 17th century Kyoto among merchant classes who imported Chinese tea implements but later took up a more local craft aesthetic. Although philosophically wabi-sabi (embracing imperfection and impermanence), tea ceremony evolved during this time into a choreographed but inherently natural activity. The "ceremony" aspect of this invites us to notice the significance of each gesture and each moment.
The term chado means "the way of tea," indicating that, like zazen and like other Zen arts, this is a practice that gets richer with repetition, without the constraints of an imagined perfection to be attained beyond the present, unfolding moment.
This retreat is both for new tea students as well as seasoned enthusiasts. Join tea masters Pei, Hobai and fellow sangha members for an ongoing exploration of tea ceremony as an appreciation of the season, our own space, our companionship with each other and all beings.
This retreat begins on Thursday evening but can also be joined on Friday.
Click here for a list of basic tea ceremony equipment, though there is no requirement to bring anything other than your keen interest.
As with all in-person retreats at the Monastery, participants are required to follow the current COVID protocol for keeping everyone safe (this link is updated frequently so check back). Review the current protocol requirements before registering, and if you have further questions, please contact the registrar.
Financial concerns should not prevent you from attending a program at the Monastery. If you can't afford the program fee, you can see these options.
Teachers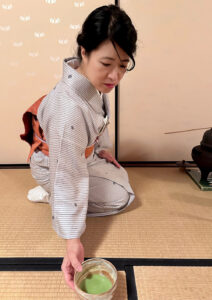 Pei-Tsen Tao
Pei-Tsen Sohai Tao has been practicing Japanese tea ceremony in the Urasenke tradition for over twenty years, and is an instructor at Urasenke Chanoyu Center in New York City.
Learn more about Pei-Tsen Tao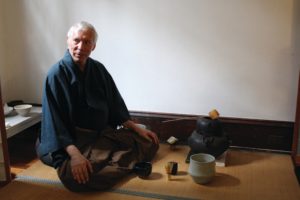 Andrew Hobai Pekarik
Andrew Hobai Pekarik has been a student of tea ceremony in the Urasenke tradition since 1977, and a Zen student in the Mountains and Rivers Order since 1994. He constructed his own teahouse, and he has been involved with Japanese art and literature as a scholar, curator, and author.
Learn more about Andrew Hobai Pekarik