"What Is Whiteness?" New Cohort Affinity Groups
with Mn. Gokan Bonebakker
July 5, 2023 - June 30, 2024
"What is Whiteness?" is a study and discussion group in which white-bodied sangha members explore, illuminate and ease their racial and racist conditioning. Within our world the roots of racial inequity and related violent actions are deep, and these tragedies continue to affect our communities and our sangha deeply. This work is a process of reclaiming full and lasting freedom from fear and bias, and putting our best intentions and efforts forward, for the benefit of all.
A new cohort to help groups get started begins Wednesday, July 5th, led by dharma holder Gokan Bonebakker. Participating requires a year-long commitment to a monthly meeting. There will be a series of five meetings with the full cohort which Gokan will lead on Wednesday evenings, and then individual groups will set their own schedules for at least seven more meetings. The first meeting will be on July 5th, and monthly thereafter.
Key aspects for discussion and sharing include: setting personal intentions, topics and materials, group structure and dynamics, and effective facilitating. We hope that coming together to share our experiences will help support this continued effort to deepen our work together.
Register to receive the Zoom link for this meeting and dates for subsequent meetings.
Teacher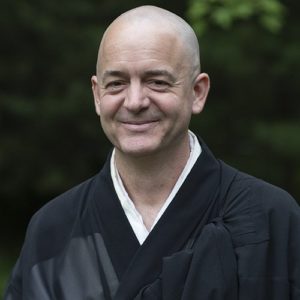 Mn. Gokan Bonebakker
Bear Gokan Bonebakker is a senior monastic and a Dharma Holder. He first came to the Monastery in 1994, and has been in residence since 2007. Gokan is the Operations Director, helps coordinate the National Buddhist Prison Sangha, and works in the orchard.
Learn more about Mn. Gokan Bonebakker