The Secret Lives of Colors and Sounds—Summer Art Practice
with Jody Hojin Kimmel, Sensei
August 18, 2023
When we truly practice, sounds and colors of the valley, colors and sounds of the mountains, never begrudge the eighty-four thousand verses. When we do not cling to our fame, profit, body, and mind, the valleys and mountains are generous in expounding the Dharma.
–Sounds of the Valley Streams, Color of the Mountains – Dogen
Summertime—what a mind-blowing season to fall in love with colors, sounds, movement. deep listening—and just being alive to the eighty-four thousand verses. In our time together we'll open up to the many 'art' supplies offered by the earth, temporarily stepping away from our computers to cull colors & pigments from our respective places. Perhaps we will be inspired to put together words, sound phrases, or movements.
The Sounds of the Valley Streams, Color of the Mountains by Zen teacher Dogen will be a text for our study and inspirations. We will also share from the book, The Secret Lives of Colors, packed with enriching history and stories of many shades and dyes. The creative process is always happening—it's our life! What is the secret? Let us express this miracle.
There are eighty-four thousand dharma doors to the path of awakening. Everyone is welcome to enter and see: where do you find the self? Participants may work in any medium from your home studio, with Dharma words and prompts offered by Hojin Sensei, to spark the fire of our innate creativity.
Your registration confirmation will include a link to the Zoom sessions. Drop ins are welcome! No previous experience necessary.
Our online programs are offered by donation so that everyone can participate.  As always, we appreciate your support.
Teacher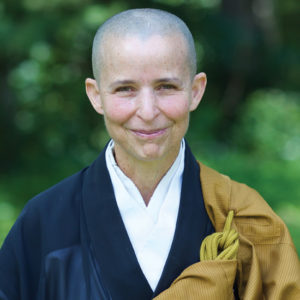 Jody Hojin Kimmel, Sensei
Jody Hojin Kimmel, Sensei received the priestly transmission (the transmission of the Precepts) from Daido Roshi, who began the process in 2009, and from Shugen Roshi, who completed the transmission in 2012. In 2017, she received full dharma transmission from Shugen Roshi. She serves as the Training Director for the Mountains and Rivers Order and Abbot of the Zen Center of NYC-Fire Lotus Temple . Hojin Sensei began her artistic career early and has taught drawing, ceramics, and painting, opening people up to the wonders and mysteries of the creative process and continues to offer Art Practices as part of her teaching. She has been in full-time residential training at the Monastery since 1990 and now shares her time at the Brooklyn temple.
Learn more about Jody Hojin Kimmel, Sensei