Precepts II- Entering the Way of Compassion: The Practices of a Bodhisattva with Hogen Sensei
with Ron Hogen Green, Sensei
April 19 - 21, 2024
A Precepts II Retreat in the Mountains & Rivers Order
The vow of the Bodhisattva is to alleviate suffering and give selflessly for the benefit of all beings—to live with compassion. According to Buddhist teachings, each of us is naturally endowed with compassion. So why do generosity, kindness and patience so often seem difficult to bring forth? What constricts our hearts and ability to respond skillfully? Indeed, what is it to be skillfully compassionate towards ourselves and others?
This retreat is open to all who are interested in practicing the Dharma and cultivating a life of wisdom and compassion. It is also part of the Mountains and Rivers Order training program for students receiving the Buddhist precepts.  In this retreat, we will examine and discuss bodhicitta—the great aspiration to liberate self and other—and its important role in generating compassion. We'll also study the teachings of the Paramitas or Perfections, those practices and enlightened views of selfless compassion: generosity, morality, patience, joyful effort, meditation and transcendent wisdom. 
By exploring the issues that challenge us the most, we'll see how we can bring compassionate action into our daily practice, both spontaneously and intentionally.
As with all in-person retreats at the Monastery, participants are required to follow the current protocol for keeping everyone safe (this link is updated frequently so check back). Review the current protocol requirements before registering, and if you have further questions, please contact the registrar.
Financial concerns should not prevent you from attending a program at the Monastery. If you can't afford the program fee, you can see these options.
Teacher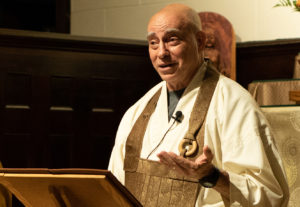 Ron Hogen Green, Sensei
Ron Hogen Green is a husband, father, grandfather, sports-enthusiast, retired podiatrist, and a lay teacher in the Mountains and Rivers Order. Hogen Sensei formally began practicing Zen in 1978 with Philip Kapleau Roshi, shortly after graduating medical school and entering private practice. In time, Hogen and his wife, Cindy Eiho Green, helped run the Denver Zen Center, an affiliate of Kapleau Roshi's Rochester Zen Center. He attended his first retreat at Zen Mountain Monastery in 1988, and not long after began studying with Daido Roshi. In 1993, Hogen completed his training in the Kapleau Lineage and was designated a senior student in the Mountains and Rivers Order. He and Eiho left Denver in 1995 and entered full time residency at ZMM. At the Monastery, Hogen served as Director of Operations for Dharma Communications for 10 years and, in 2000, ordained as a monastic. In 2007, Hogen Sensei returned to lay life, spending time with family while continuing to play an active role in the MRO, its practice centers and affiliates. In 2016, he received dharma transmission from Shugen Roshi, becoming the first lay teacher in the Order. He served as co-director of the Zen Center of NYC for a number…
Learn more about Ron Hogen Green, Sensei