Karenji Choir
with Jody Hojin Kimmel, Sensei and Justin Ward Weber
September 3 - December 17, 2023
Zen Chants are constant reminders  that we practice together, we are one mind, one heart, one life. Even if we meditate alone, we are united with other awakened ones—not only with those in our immediate vicinity, but with all awakened beings from the past, present and future everywhere in the world.
—Kaz Tanahashi
This Fall we're starting a choir! Yes, that is right, the Karenji Choir. We'll be working with a musical setting of a short text from Shantideva's Way of the Bodhisattva as a way of joining our voices together and cultivating an attitude of goodwill for all beings.
In the Zen tradition, chanting is a powerful gateway to the experience of one-body. When we merge our voices together as one sound, we have the opportunity to touch, intimately and directly, what we share as human beings—just as in zazen, through the practice of breathing, we touch the common ground of our human experience in stillness and silence.
Date and Time Details for Rehearsals: Sundays, 2pm – 3:30pm: 9/3, 9/10, 10/8, 10/15, 10/22, 11/5, 11/19, 11/26, 12/3, 12/10 (bus trip to ZMM to offer the chant) 12/17 (chanting in front to the Temple on State Street for the neighbors and wider sangha).
Location: ZCNYC; Fire Lotus Temple
Contact: Fire Lotus Office, zcnyc@dharma.net, 718-875-8229
More Information: See the letter announcing the formation of the choir here
.
We'll be guided by Hojin Sensei, Abbot of ZCNYC and Justin Ward Weber, a Black trans/non-binary composer, pianist, music director and mystic based out of Brooklyn who also practices at Fire Lotus Temple.
You can show up just as you are, with the voice that you have. It's all workable!
Teachers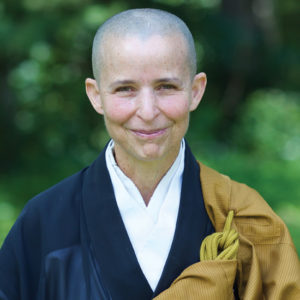 Jody Hojin Kimmel, Sensei
Jody Hojin Kimmel, Sensei received the priestly transmission (the transmission of the Precepts) from Daido Roshi, who began the process in 2009, and from Shugen Roshi, who completed the transmission in 2012. In 2017, she received full dharma transmission from Shugen Roshi. She serves as the Training Director for the Mountains and Rivers Order and Abbot of the Zen Center of NYC-Fire Lotus Temple . Hojin Sensei began her artistic career early and has taught drawing, ceramics, and painting, opening people up to the wonders and mysteries of the creative process and continues to offer Art Practices as part of her teaching. She has been in full-time residential training at the Monastery since 1990 and now shares her time at the Brooklyn temple.
Learn more about Jody Hojin Kimmel, Sensei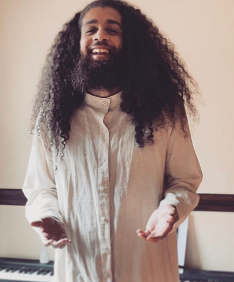 Justin Ward Weber
Justin Ward Weber (they/them) is a Black trans/non-binary composer, pianist, music director and mystic based in Brooklyn who practices at Fire Lotus Temple. Justin has a rich and diverse musical background, but what brings them the most joy is working with those who've not yet given their voice a chance to shine. They believe that anyone can enjoy making music and singing if given the space to express themselves.
Learn more about Justin Ward Weber